How to Plan and Decorate Your Dining Room
From choosing a dining room table to deciding on a colour scheme and where to position a side cabinet, here's how to transform your dining room, whatever its size and style.
Indeed, dining rooms are typically one of the most underused spaces in our homes. We forget about them entirely, or they become a place to dump clutter to be sorted through at a later date.
And yet dining rooms were always intended as the hub of the home. A place to eat, yes, but also to chat and relax. And with many people spending more time now cooking and eating together as a family, the dining room has returned to playing a vital role as a place where everyone gathers at the end of the day to talk and unwind, bonding over good conversation and good food.
Whether you use this space to entertain guests or more of a multifunctional room – an office during the day, or a playroom for the kids – with some smart decor choices and creative thinking, a dining room can become the scene of memorable evenings with family and friends.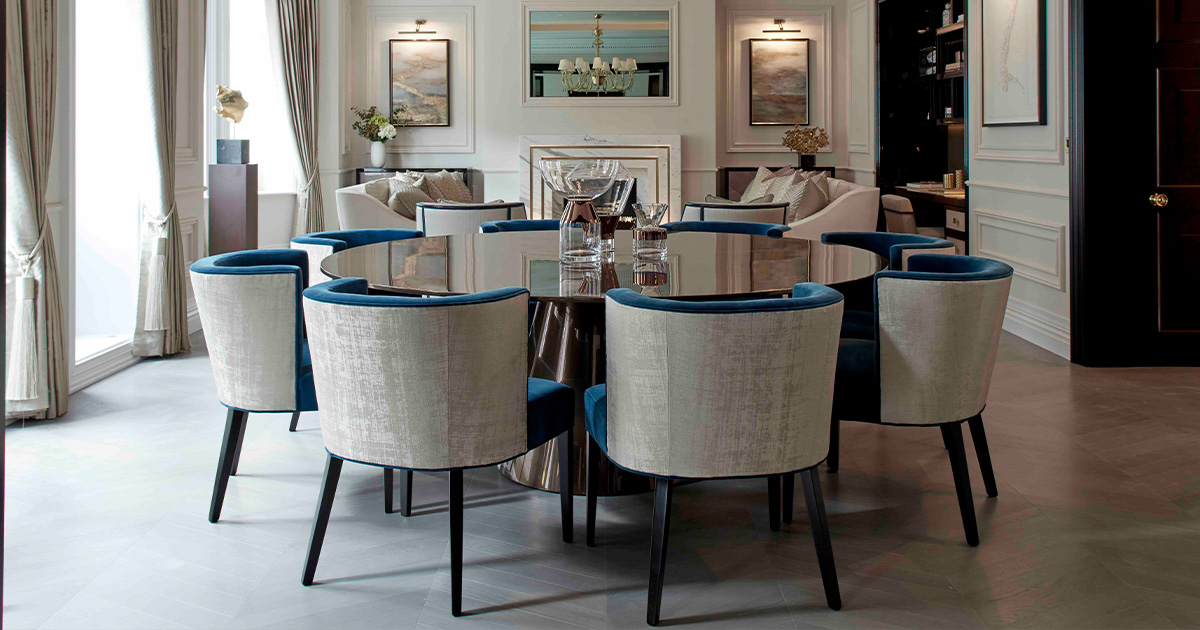 The Elystan Dining Table at a private residence designed by Rigby & Rigby
Planning Your Dining Room
The first step is to consider the needs of your household. How often do you plan to use your dining room? How many people typically join you for dinner? Do you regularly have guests over to eat? Do you have young kids, and, if so, does it need to be child-friendly?
Next, where exactly is your dining room? Is it a separate and self-contained space or more of a dining area in an open-plan kitchen? Does it need to serve two purposes? Perhaps your dining room is also a playroom or needs to function as a home office during working hours. Take some key measurements to help you as you search for suitable furniture. Outline dimensions using painter's tape to get a sense of how it will all work together.
Decide What Furniture You Need
Now you can consider what kind of furniture you need. Whether you're revamping an existing space or creating a dining room from scratch, these are the pieces of furniture you might invest in.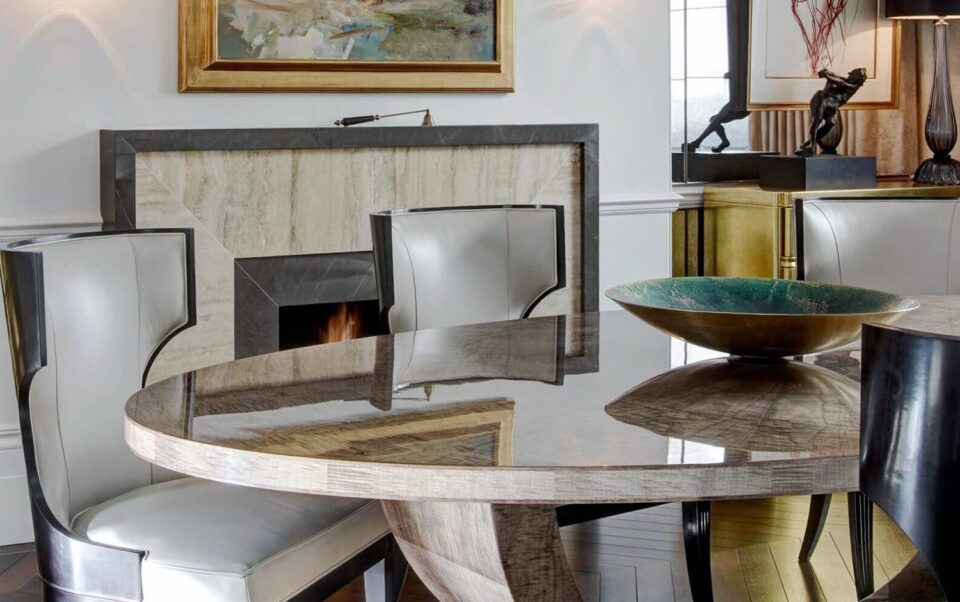 The Ovington Dining Table at a private residence designed by Janine Stone
Dining Table
You'll want to think about what dining room tables are in style and what types of dining tables meet your needs and tastes.
Dining Chairs
You may want to invest in new dining chairs to suit your new dining table, but if you'd rather stick to existing seating arrangements, consider how you could reupholster dining room chairs to give them a new lease of life.
Occasional Tables, Consoles and Sideboards
If your room is big enough, an occasional table, console table or sideboard could provide additional storage and display space. Especially if your dining room also serves as an office, you'll want somewhere to hide away work materials at the end of the day.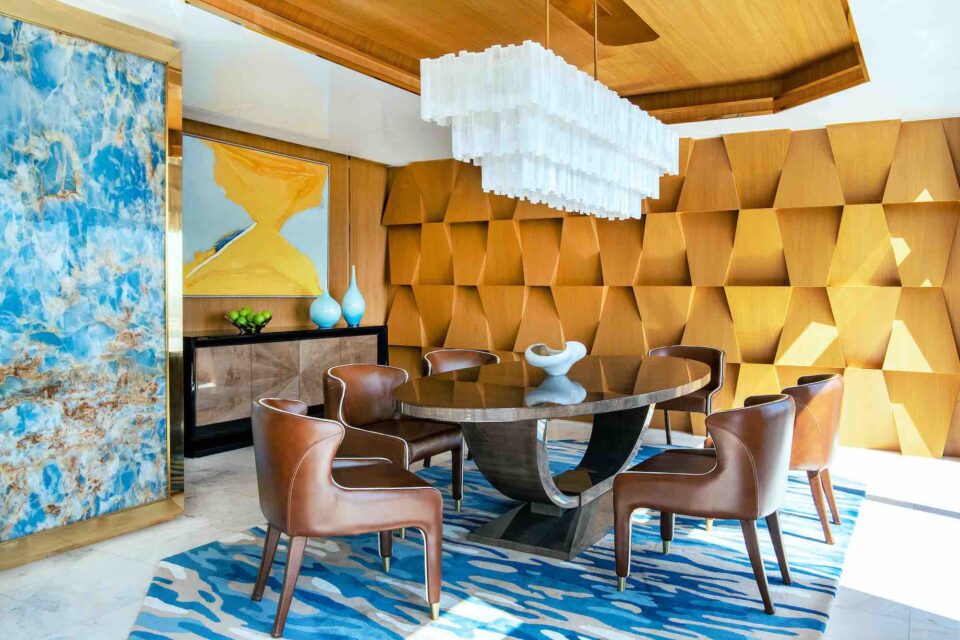 The Ovington Dining Table and Hanover Sideboard | Private residence designed by Design Intervention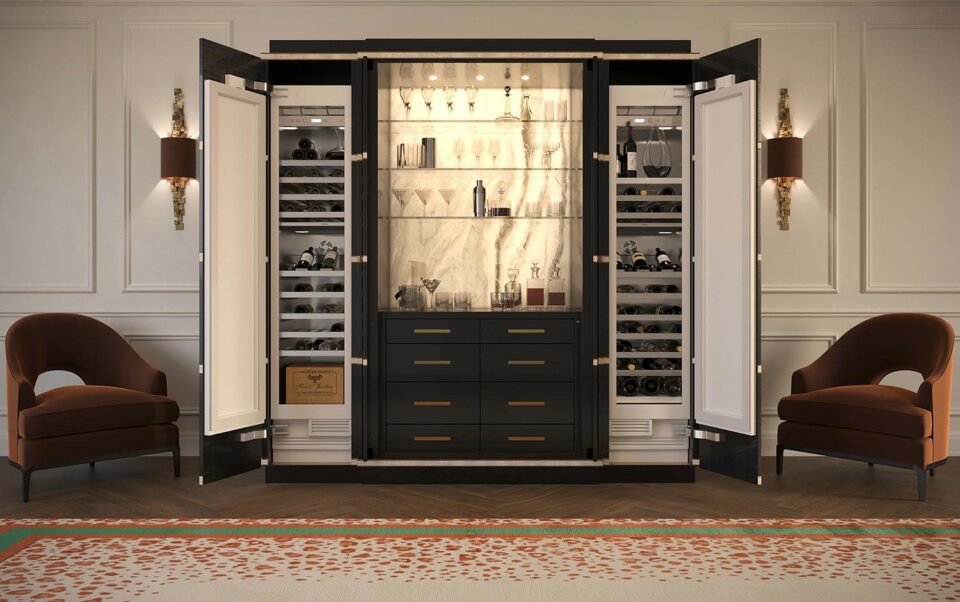 The Collins Cocktail Cabinet & Cellar
Fitted Furniture
Finally, why not consider fitted furniture? Bespoke furnishings are a perfect option if you want something distinct, designed according to your unique style preferences. Fitted furniture is also a good choice if your space is a little awkward and you are struggling to find pieces that integrate smoothly into the room scheme.
How To Choose Dining Table
A dining table is a big investment. You're most likely seeking something that will last a long time – and even something that can be passed on as a family heirloom. The dining table is also the focal point of the space and the piece around which you'll base the rest of the room.
What shape should your dining room table be?
Round is more dynamic and fits well into smaller spaces, but you'll also want smaller chairs to go with it so that people don't feel cramped. Meanwhile, rectangular dining room tables look great in large rooms and are more traditional. Oval dining tables – such as our Ovington – offer a good half-way house
What size table do you need?
Round dining tables that seat 4 or 6 should be between 4 and 5 feet long. A rectangular or oval dining table for 4 or 6 people should be around 4 or 6 feet long, and 3 feet wide. Bigger rectangle or oval dining room tables for 8 or 10 people should be at least 8 feet long and 3 or 4 feet wide. And dining room tables that can seat 12 people should be 12 feet long and 4 feet 6 inches wide. Check whether a dining table of these dimensions will fit in your dining room. You don't want to cram it into the space or it will look overwhelming.
What finishes would complement your dining room?
After you've worked out size and shape, you can consider materials. Wood is classic and traditional, although it can look modern too. For something more unusual, you might consider metals such as bronze – as in DAVIDSON's Empire Dining Table. Or what about a combination of wood and metal? Our Rosebery Dining Table features white gold leaf alongside high-gloss sycamore.
Style considerations
The aesthetic of your dining table should reflect that of the room as a whole. Opt for clean straight lines and simple geometry if you want to evoke a mood of modern minimalism. What about some Art Deco elegance with the Grace Dining Table?
Shop the Story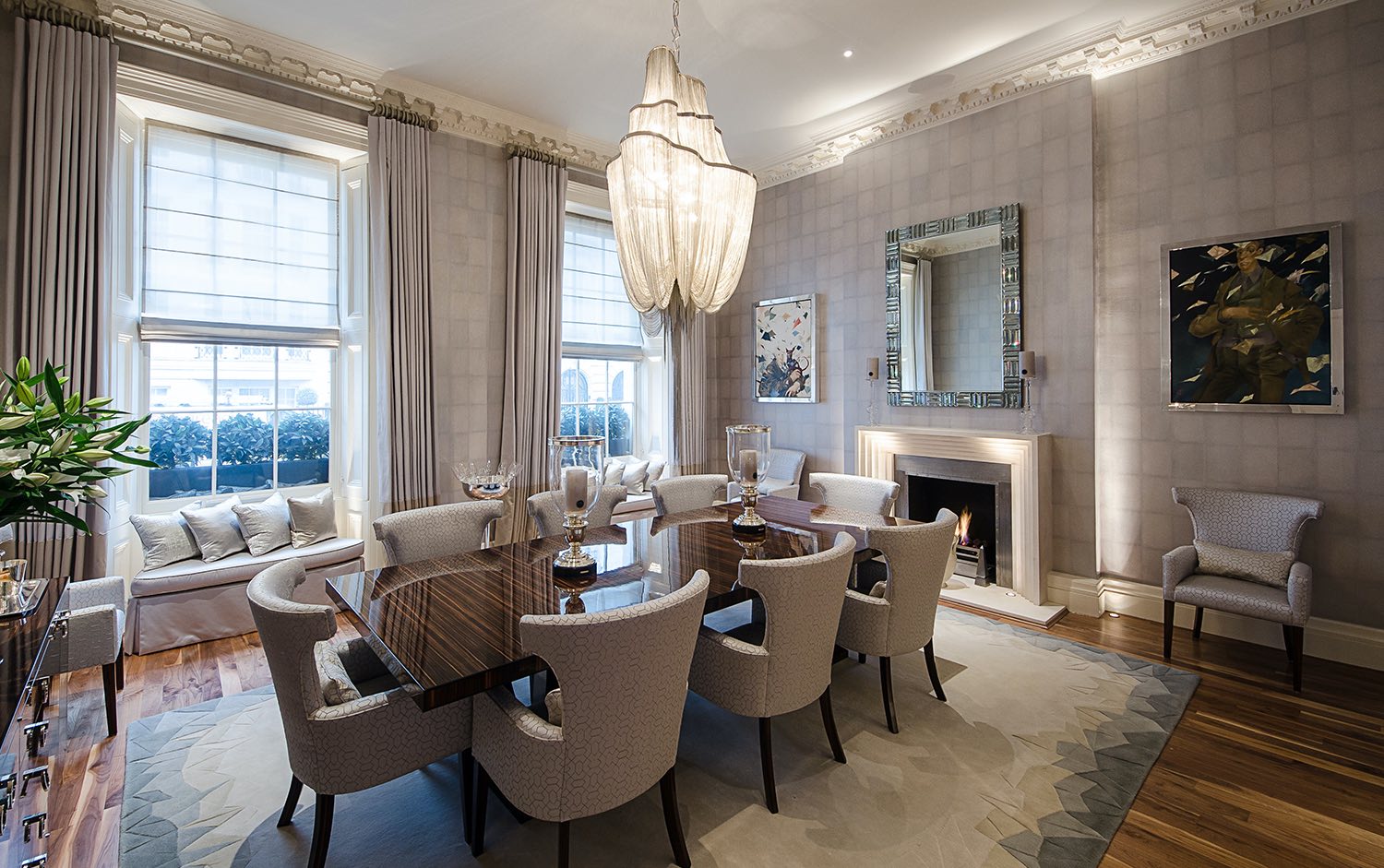 The Grace Dining Table with The Brunswick Chair and The Montpelier Sideboard.
Choosing Chairs
When deciding how many dining chairs you need, bear in mind that you need around 60 cm of tabletop space for each person – and 75 cm on a circular table. Too many chairs and your guests will feel crammed in.
For timeless elegance, choose a set of matching chairs with a low-key aesthetic. The Archer Chair is simple and sophisticated – a great choice for a circular table. If you have a bit more space to work with, a set of Winslet chairs offer a soft and feminine look.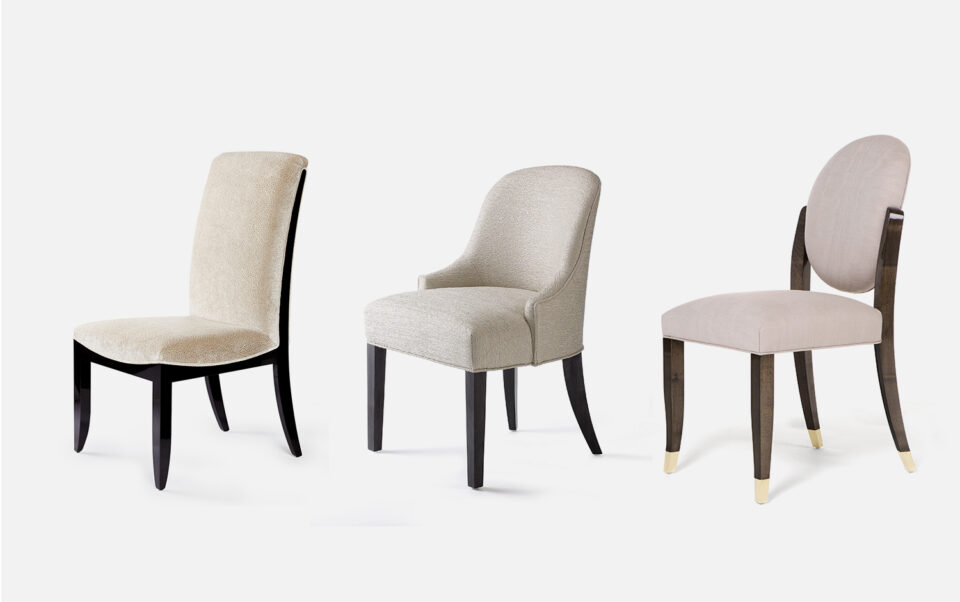 The Archer, The Goodchild and The Winslet Dining Chairs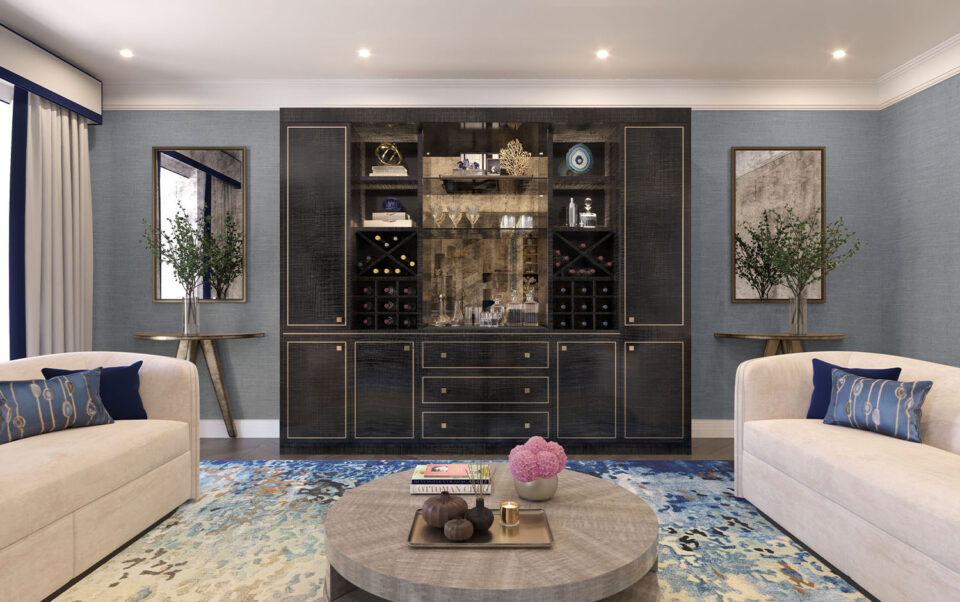 Fitted Furniture
If you want something unique, why not opt for a fitted bar for your dining room? Fitted furniture – such as our Vesper Home Bar – allows you to adapt designs to your particular space. This offers a huge advantage if your room is a tricky shape or has features like an alcove or other little nooks and crannies.
Sideboards and Console Tables
If you have space for it, a side cabinet, sideboard, or console table, can provide a place to display ornaments or store serving dishes during a dinner party.
If you've chosen an understated dining table, you could opt for an eye-catching and dramatic console table, such as the Scarsdale, or the Belmont. Or, if you want to maximise storage space, go for something bold and vivid like the Palisades Cabinet. Or channel smooth curves with the Nazarova Curve.
Of course, the most exclusive dining rooms always feature a drinks cabinet.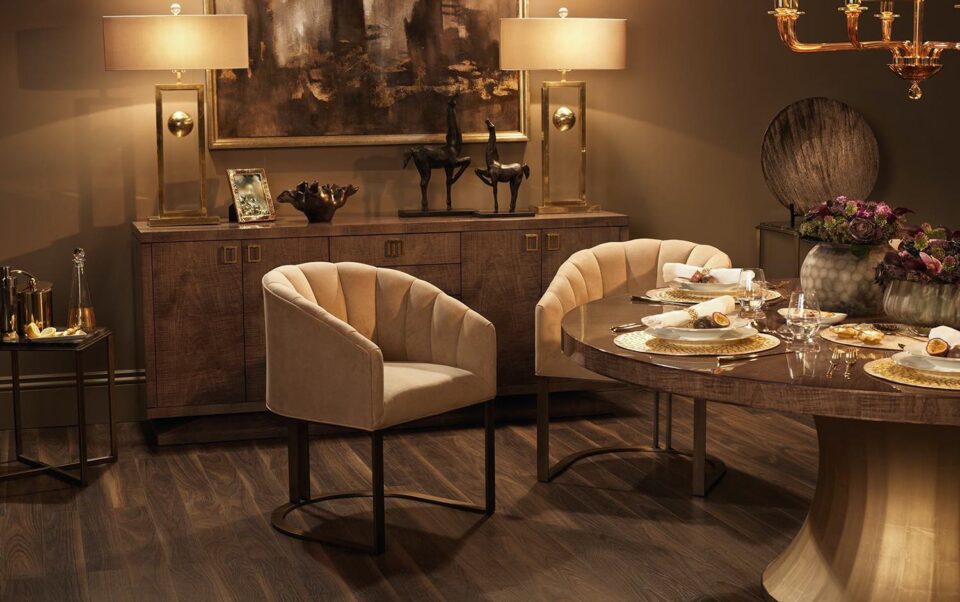 The Montpelier Side Cabinet and The Rosebery Table
Dining room layout
The layout of your dining room will depend on the nature of your space. If you have a self-contained dining room, you can have your space permanently set up for dining. Otherwise, try to establish a layout that allows for an easy transition to an office or playroom during the day. A screen is a nifty way to hide off sections of the space and quickly conceal clutter.
Think about mixing dimensions and heights to create a dynamic space. For example, an asymmetrical mantlepiece arrangement or mismatched side tables.
Dining room decor ideas
When it comes to decoration, you want to balance functionality and aesthetics. How to decorate your dining room in a way that is sophisticated and elegant but also convenient and comfortable?
Draw inspiration from magazines and your favourite brand lookbooks. Identify your favourite styles. Do you tend towards contemporary minimalism? An edgy industrial look? Something more traditional and rustic? Or do you have a penchant for arty and eclectic interiors?
When it comes to paint choices, the top colours for dining rooms are all bold and bright. Emerald green and classic blue are especially on-trend. And don't be afraid of dark colours for your dining room. They can pack a serious fashion punch.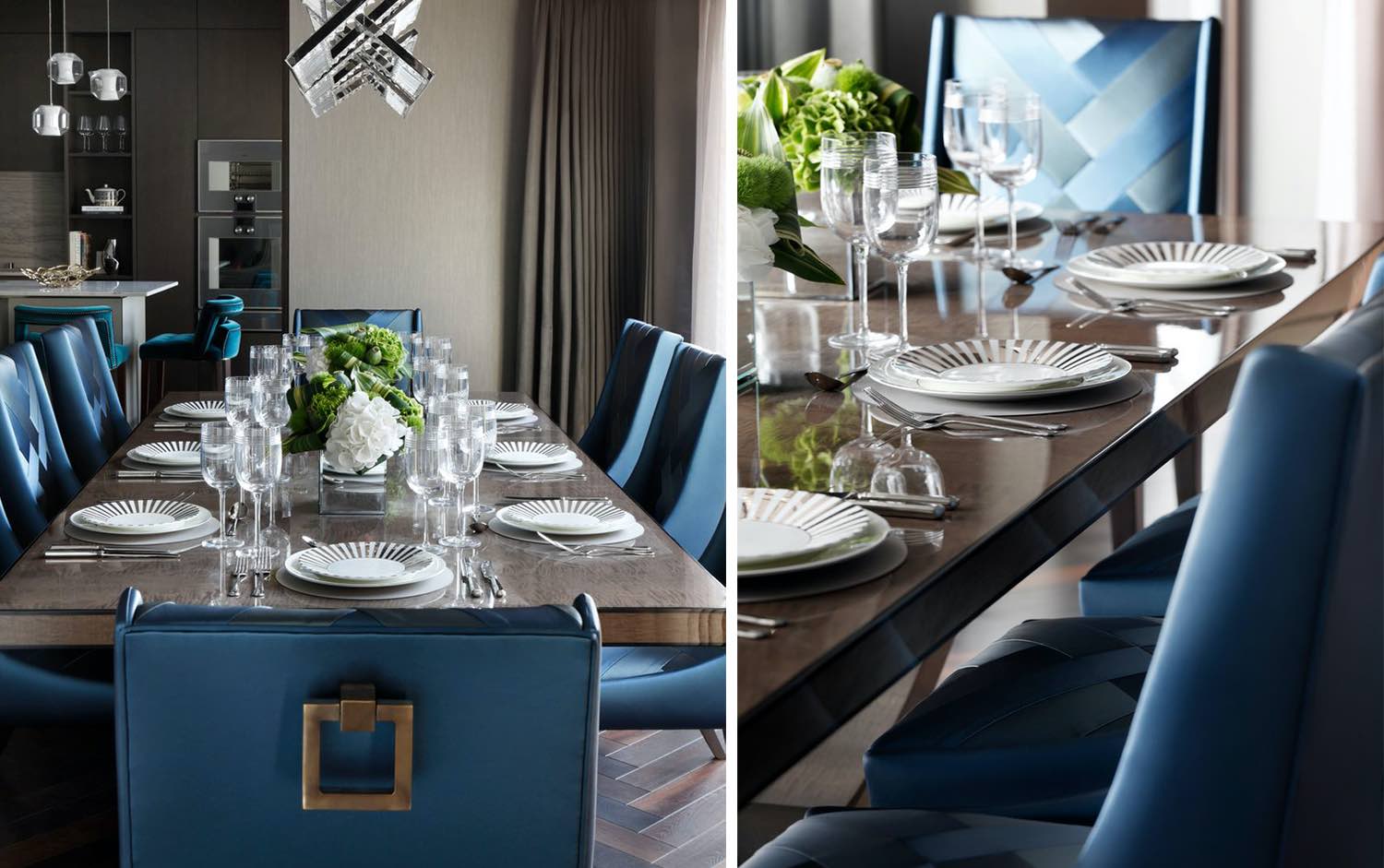 The Grace Dining Table at a private residence designed by Oliver Burns