How to Style Black Furniture in Your Interiors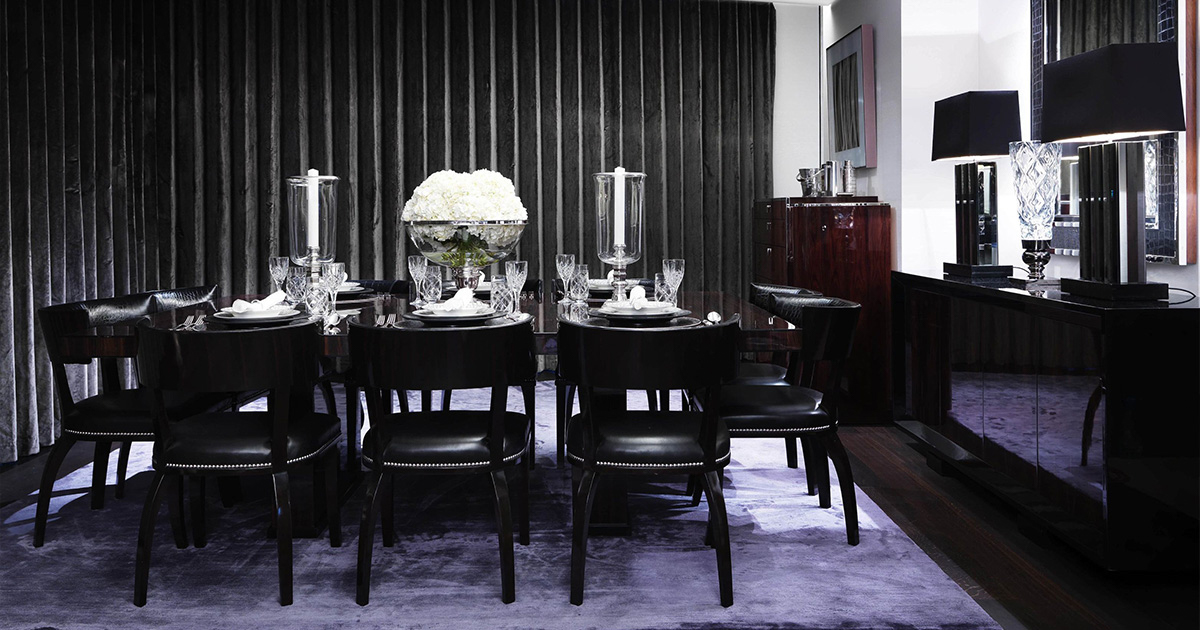 Black is very much the new black when it comes to home furniture. However, black isn't to everyone's taste – for some it can feel a little gothic, overpowering, or even cold. But, with the right styling, complementary colour palette and lighting, high-finish black furniture can help to create an elegant, sophisticated interior that combines drama with warmth.
So, if you're keen to incorporate this high-stakes trend into your home, here are our six top tips on getting it just right.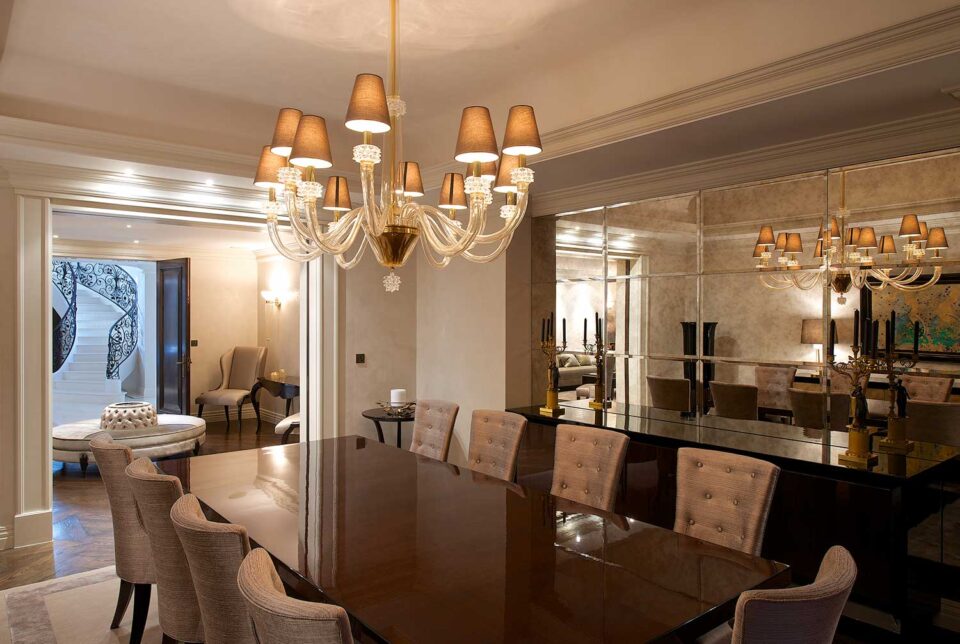 The dark wood in our Hillgate Sideboard, Grace Dining Table and other pieces of furniture in the room is softened by the nudes, creams and magnolia shades at work in our Hartley Chairs and the rest of the interior.
Soften With Neutrals
Styling black furniture alongside neutral tones and natural materials will give your interiors a softer edge. Add plants or firs for additional interest and position furniture in a room with natural sunlight to create warmth. Pairing darker pieces with neutral walls and soft furnishing works particularly well in a living room. Creating a look that is both stylish and comfortable. Plus, it's a great option if you're working with a small to medium-sized room where you're looking to balance space with impact.
Style With Pastels
Like neutral tones, pastels help to soften the dark, heavier hues of your furniture, while adding a touch of romance. This is a great colour combination for a bedroom. A black-framed bed or dressing table combined with pastel walls and the softest fabrics can turn any plain bedroom into an intimate, peaceful sanctuary.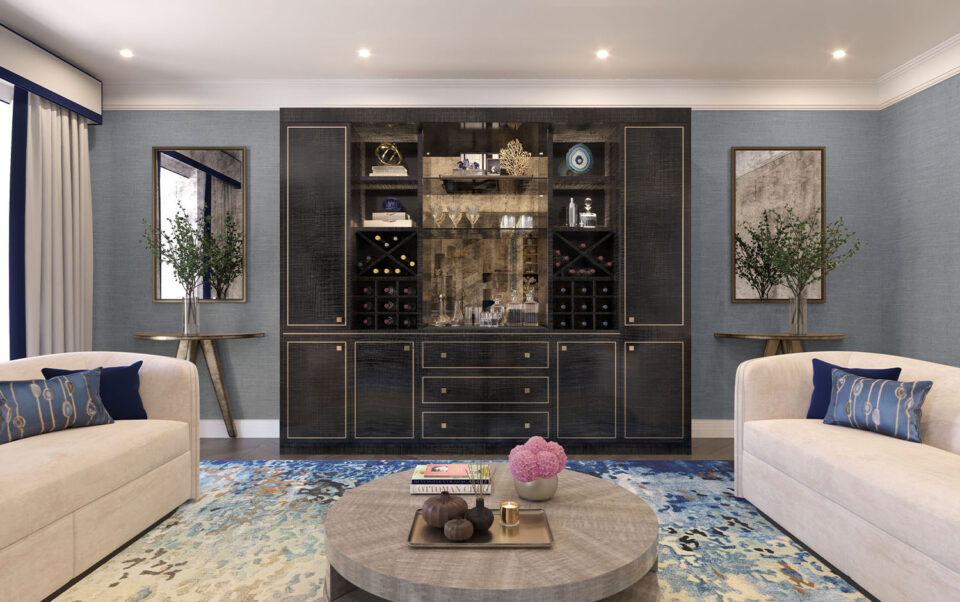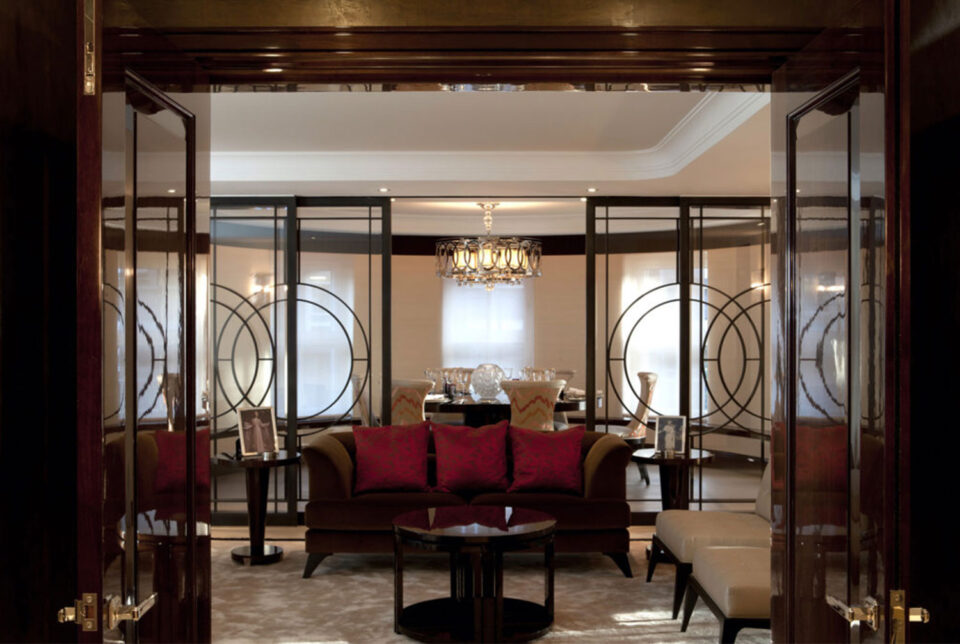 Our Stanford Occasional Tables look superb in a setting where cherry red accents break up the darker hues of the interior.
Contrast With Bold Colours
If pastels aren't to your taste, then why not add a burst of energy to your interiors. Contrast black furniture with bright accents of colour. The trick is not to go too far. You'll probably still want to opt for a neutral colour on the walls or a bright white ceiling. But, go bold with vibrant shades of red, yellow, green or pink in your choice of cushions, upholstery and rugs.
The deep tones of your dark furniture will be balanced out by the injection of colour. We recommend this effect in the kitchen. High-finish black units can be offset by brightly coloured accessories, such as bar stools, splashbacks tea towels and even plant pots. Alternatively, wow your dinner guests with a dramatic dining room. Pair your dark table with sparkling silver dinnerware, vibrant wall art and flower arrangements in vivid pinks or oranges.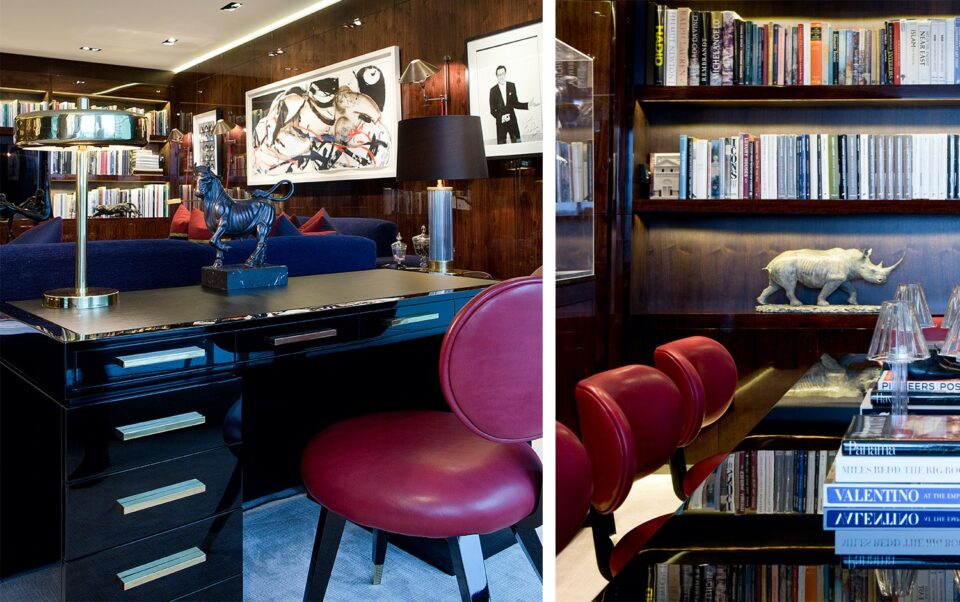 The Wellington Desk with fitted shelving for a private client
Shop the Story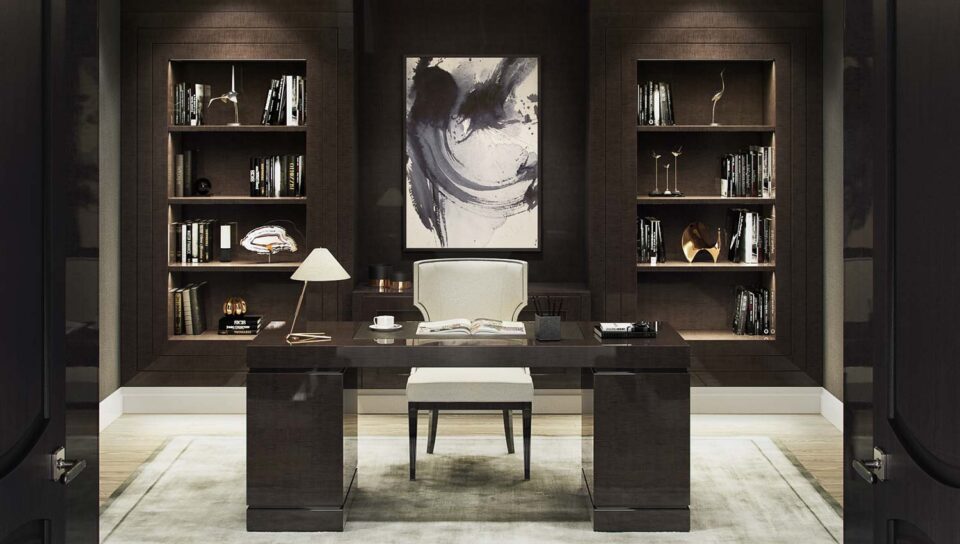 Create a dramatic office interior by opting for dark wood-panelled walls and high-lacquer doors, like this DAVIDSON bespoke fitted office interior, featuring our Wellington desk.
Go Moody With Darker Hues
For a truly indulgent, sumptuous look. Pair black furniture with other dark hues, such as grey or navy, or a more intriguing palette of burgundy or emerald.
This is a bold choice but one that will pay dividends for anyone looking to create a room that breathes sophistication. It works equally well for a living room, bedroom, or office. We'd recommend selecting paint and furnishings in various shades of your chosen colour. Balance that with injections of white or neutral tones in the flooring and ceiling to soften the look. Adding reflective accessories, such as mirrors and lamps, helps to lift this heavyweight option with some additional light and space.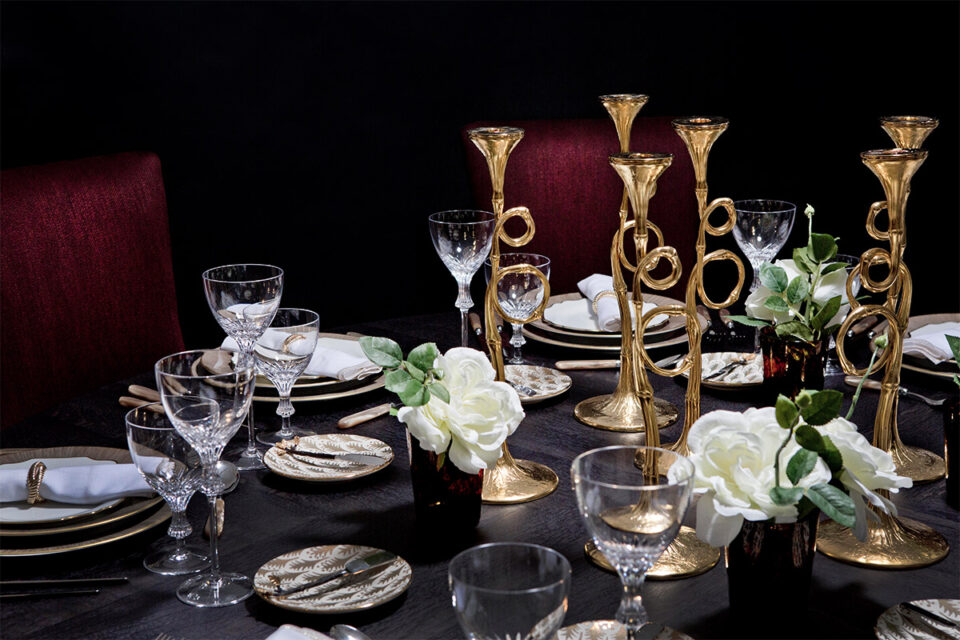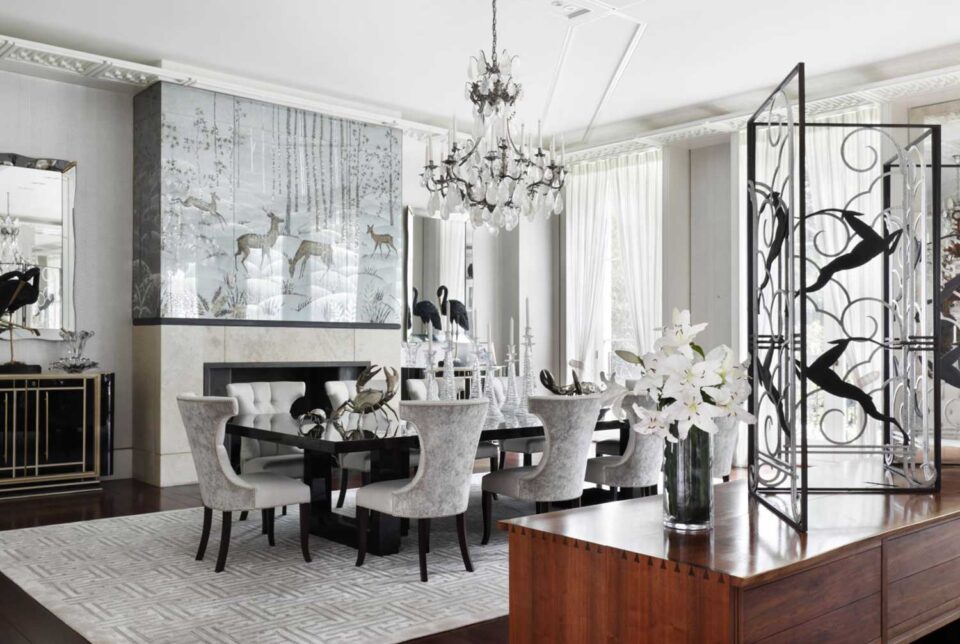 Our Hamilton Dining Table, in dark-tinted sycamore black wood, looks great in a bright, airy setting with frosty, winter accents that offset the darker tones in the room.
Pair With White
The beauty of black is that it never goes out of style and can be combined with virtually any colour. Name a better place to start than with a monochrome palette?
Styling black furniture against white walls is the perfect way to make a statement and works particularly well in hallways. Here, dark furniture creates impact, while white walls help to ensure that a typically small space feels light and bright.
Get The Lighting Right
Dark furniture comes into its own when shown off in natural light. That said, clever positioning of lamps and overhead lights will always help to create additional pockets of brightness and space. Ensuring that your room never feels overwhelming. For a truly decadent look, style with chandeliers in gold or silver, or add lampshades made of soft, tactile fabrics, such as silk or velvet, for a gentler feel.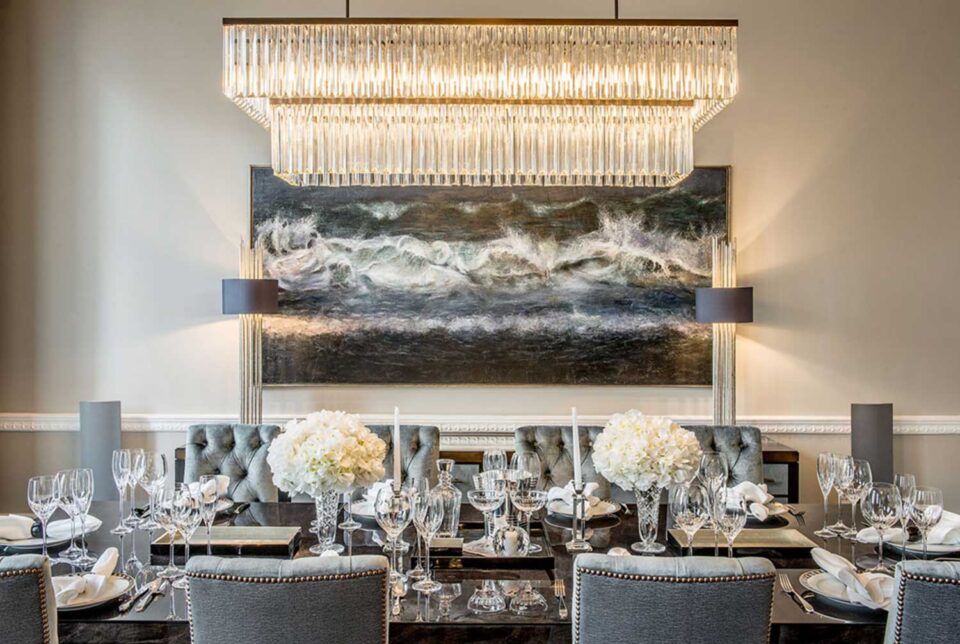 Our Grace Dining Table in dark, high gloss Macassar ebony wood is illuminated by an opulent chandelier and side lamps with duck egg blue accents.
If you're looking for black furniture to style into your interiors, look no further than our range of bespoke furniture. From dining tables and chairs to cabinets and desks, DAVIDSON furniture is available in a variety of dark and high lacquer styles and finishes. To suit a range of tastes and preferences.