Decorating and Furnishing Your Luxury Sitting Room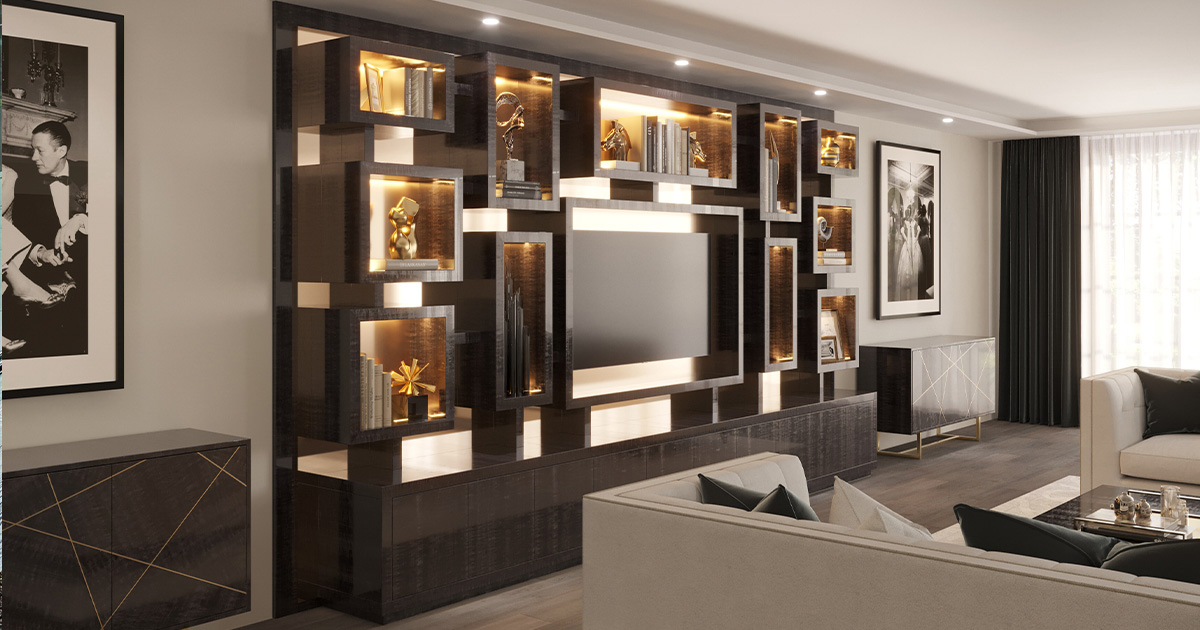 A sitting room is so much more than a place for watching Netflix. It's a place to spend time with family, whether that's enjoying movie marathons or playing games. A place to entertain friends and guests, whether for Christmas drinks or post-dinner digestifs. And it's a glorious sanctuary to retreat to at the end of a busy day. So how to decorate a sitting room? How to transform it into a place that you are eager to return to each day
Here we outline what sitting room furniture is in style and explore different sitting room decor ideas, showing you to elevate your space to somewhere inviting and engaging – but also stylish and impressive.
Whether yours is a snug little parlour or a spacious drawing room, here are our top living room interior design tips.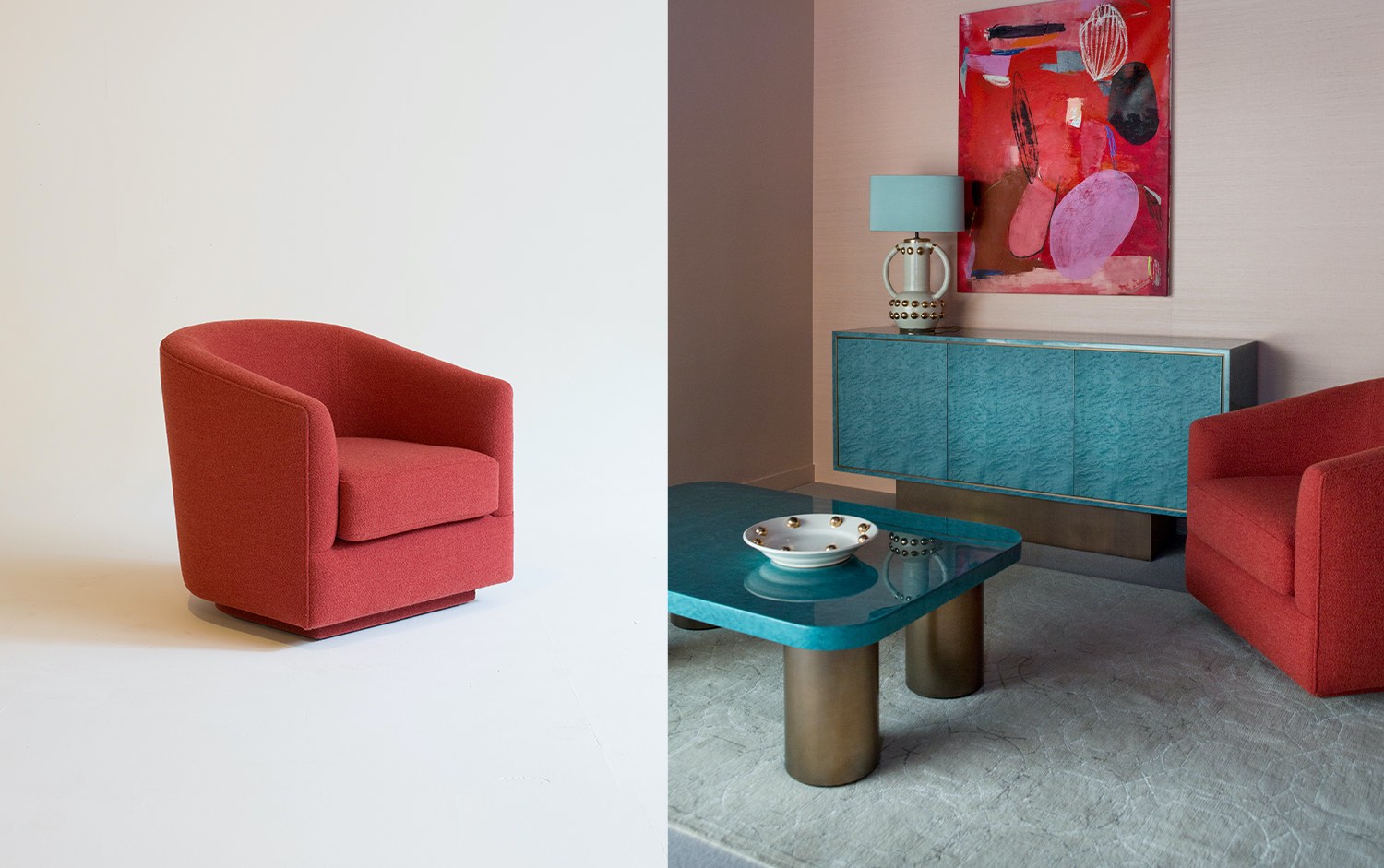 The Boulevard Armchair, the Malibu coffee table and the Palisades cabinet from DAVIDSON's collaboration with Anna Standish.
The Basics: Colours and Floor Choices for Modern Living Rooms
Sitting room decorating ideas range from monochromatic simplicity to whirlwinds of colour but those sitting room shades that are particularly on-trend right now are warm pastels and earth tones. Here at DAVIDSON, our favourite colours for sitting rooms are rich blues – such as Pantone's Classic Blue – and emerald greens. If you like bright colours but aren't confident enough to go the whole way, why not choose a single accent wall? This should be the wall that your eye is first drawn to when you enter the room. High ceilings are a great opportunity to splash out on fabulous wallpaper – one easy way to make your sitting room a truly memorable space. And what kind of flooring do you want? Most people go for either carpet or wood, whether that's reclaimed oak or parquet. But in warmer climates, tiles can look wonderful, as can limestone slabs. Once the floor and colour have been chosen, you can think about style and aesthetics. Are you more of a minimalist or a maximalist? Do you err towards the traditional and classic or do you have a penchant for clean-lined contemporary cool? Go with your gut. If you're drawn to eclectic and quirky interiors, follow your instinct. Or if sophisticated and streamlined is more your thing, then make that your vibe. Top tip: mix up the geometry. Combine rectilinear lines with soft and swooping curves. This will create balance and intrigue.
Choosing the Perfect Sitting Room Furniture
Sofas
When thinking about different sitting room ideas, the first thing to consider is the sofa. After all, what's a lounge without somewhere to actually lounge?
With sofas, the key is striking that balance between comfort and style, function, and fashion. Plus, you want to consider the size of your space. A lot of people make the mistake of going for a sofa that's too large for the sitting room, which can be very overpowering. On the other hand, tiny sofas aren't very comfortable.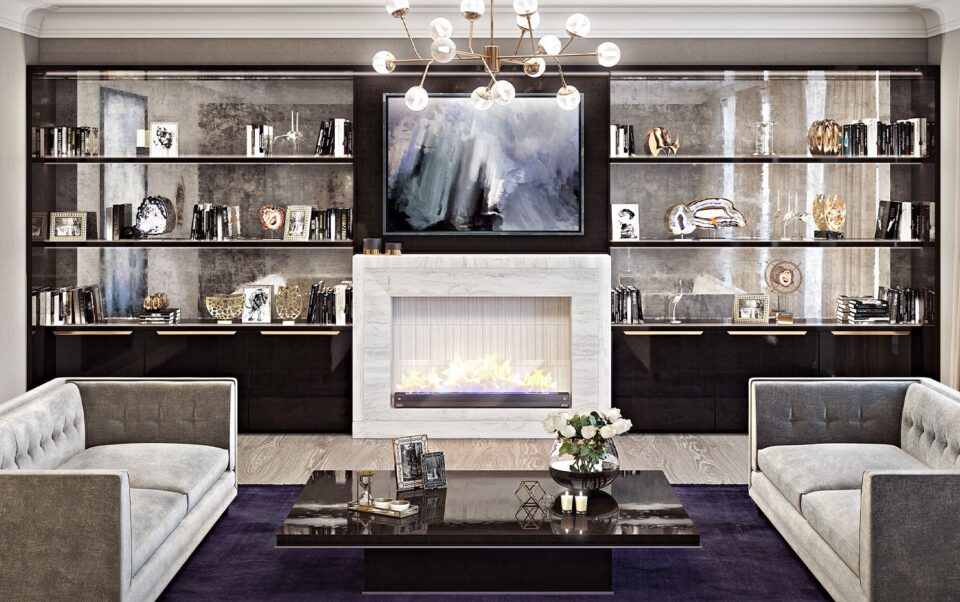 The Warwick Coffee Table is in front of a fitted shelving unit.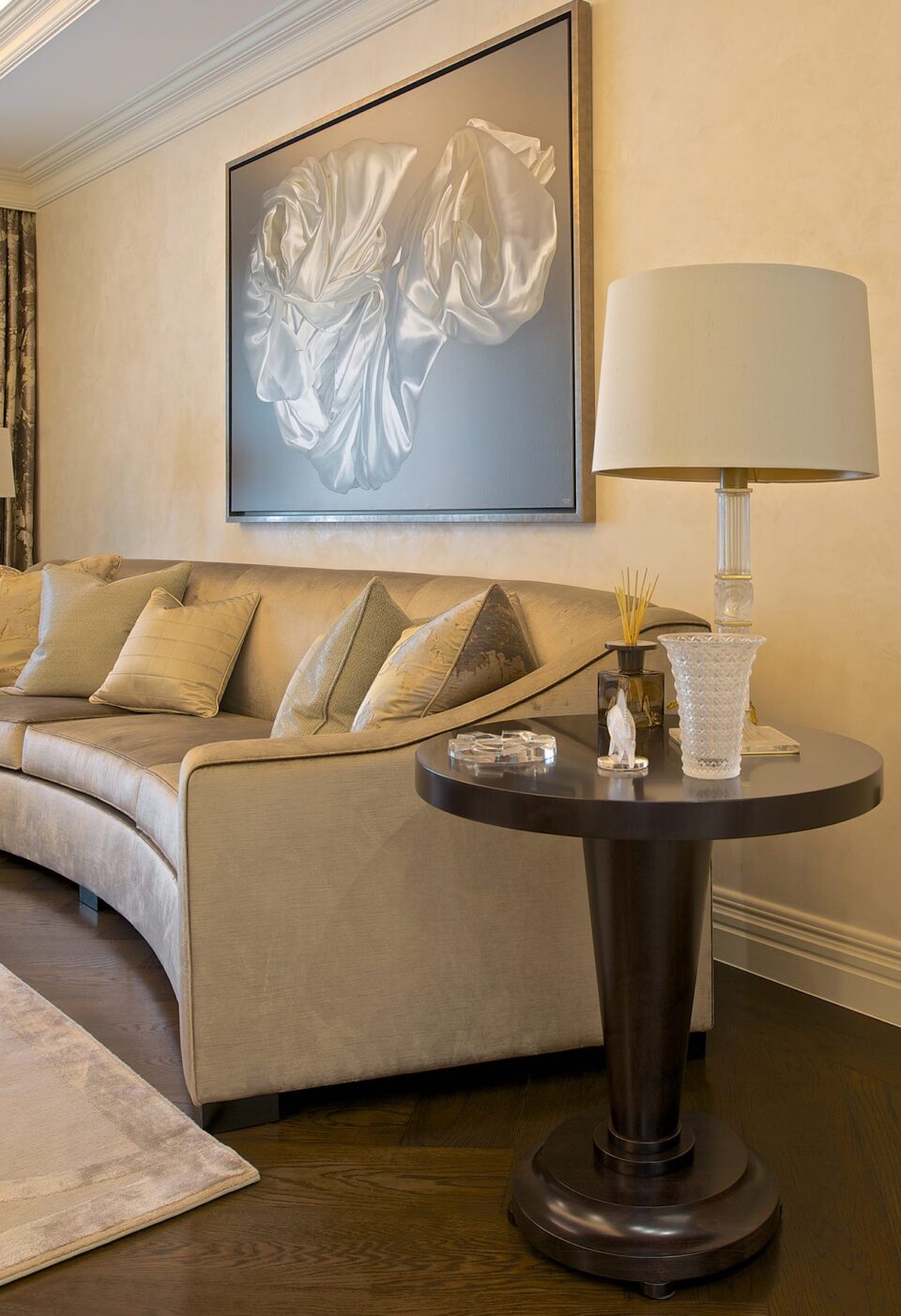 The Adelaide Occasional Table in front of a curved sofa.
We recommend opting for bigger models – like Chesterfields – for spacious and modern sitting rooms, and seeking out cute little two-seaters for smaller spaces. Or opting for a medley of armchairs instead.
As for style, favour the simple and classic. This allows the sofa to serve as a backdrop for the more visually compelling elements in your room.
Chairs
Almost as important as the sofa are the chairs you choose to complement it with. We recommend contrasting the softer silhouette of the sofa with chairs that are a bit sharper and more structured in shape.
For example, DAVIDSON's Morton Chair – comfortable but stately – or the shimmering Brunswick, which would dazzle in a monochromatic interior.
The Charlton, with or without arms, would add a touch of dignified sophistication while the Elliott is a show-stopping accompaniment to any contemporary sitting room.
Finally, the Boulevard Armchair, whose effortless 70s-style elegance makes it the perfect high-impact choice for more colourful and playful spaces.
Coffee Tables
In many modern sitting rooms, coffee tables serve as the focal point – a stand-out piece that draws the eye. This is your chance to really make a statement.
Dark woods are ideal for monochromatic room schemes. For example, the Warwick, with its rippling black sycamore surface and polished nickel trim.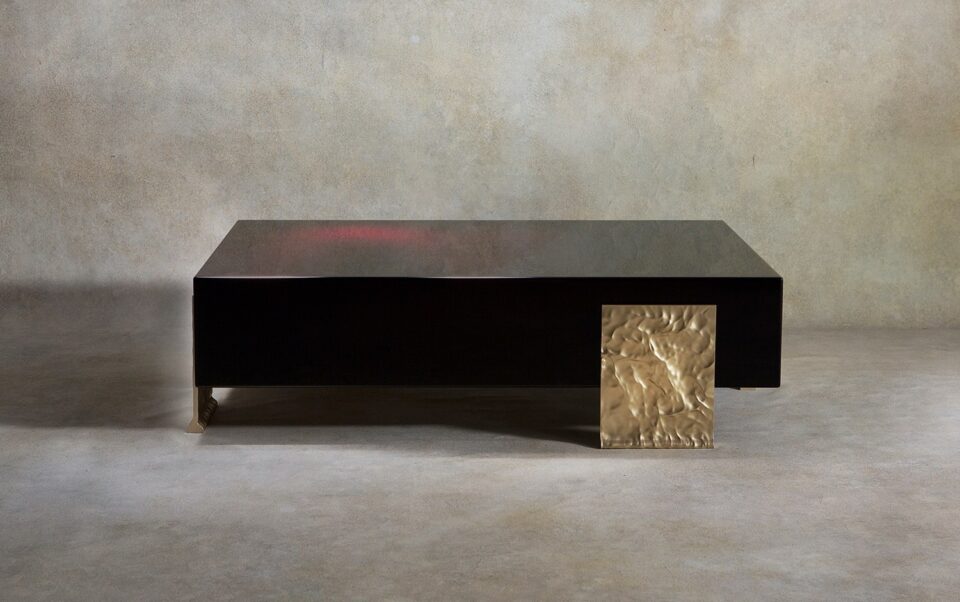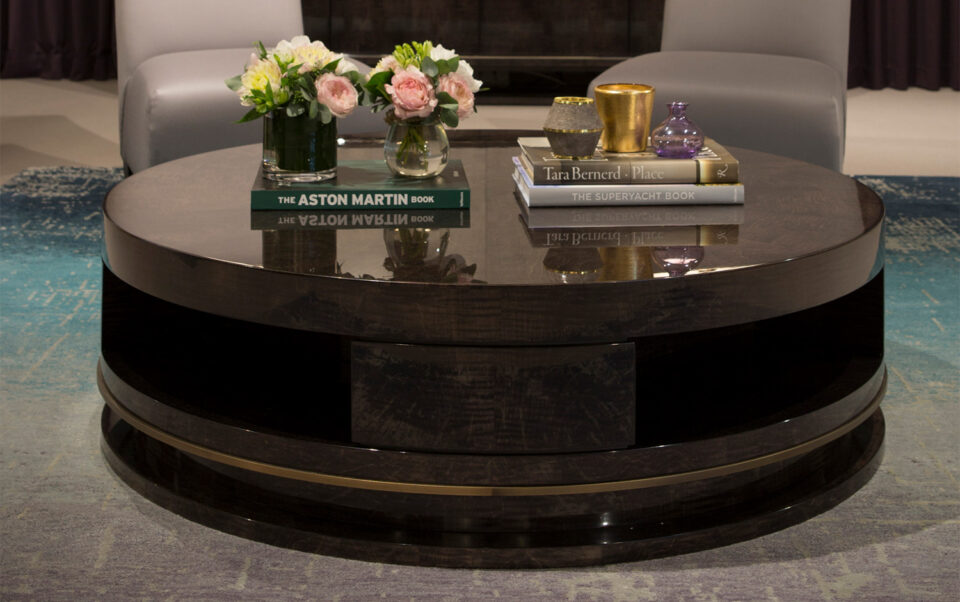 But if you're looking to stand out from the crowd, there's the Melrose: bold and confident with a sharp-lined silhouette that would look great in an interior otherwise dominated by soft shapes and curves.
The Malibu, part of DAVIDSON's West Coast Collection, is perfect for instilling some Californian cool into your space, while larger spaces could accommodate the Chester Coffee Table, whose lack of sharp corners makes it a great choice for family rooms.
Occasional Tables
You can never have enough surface space, whether for setting down a glass of wine, stacking a pile of design magazines, positioning a table lamp, or displaying trinkets. And so a couple of occasional tables can do wonders when curating a stylish modern sitting room. Our Wanderlust occasional tables are the epitome of modern opulence. Brightly coloured, gloriously glossy, and available in 12 colour combinations and three different sizes. Why not get a set?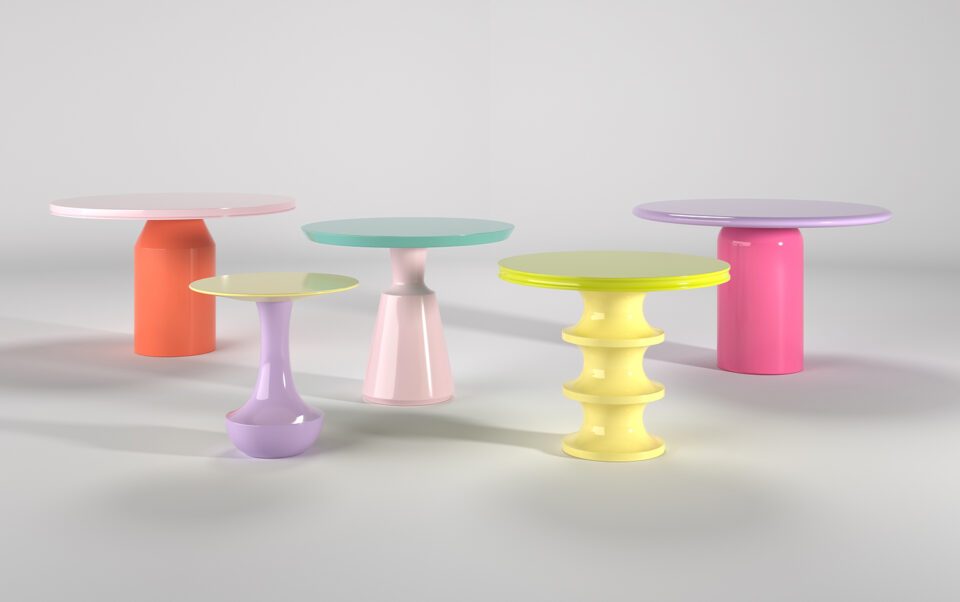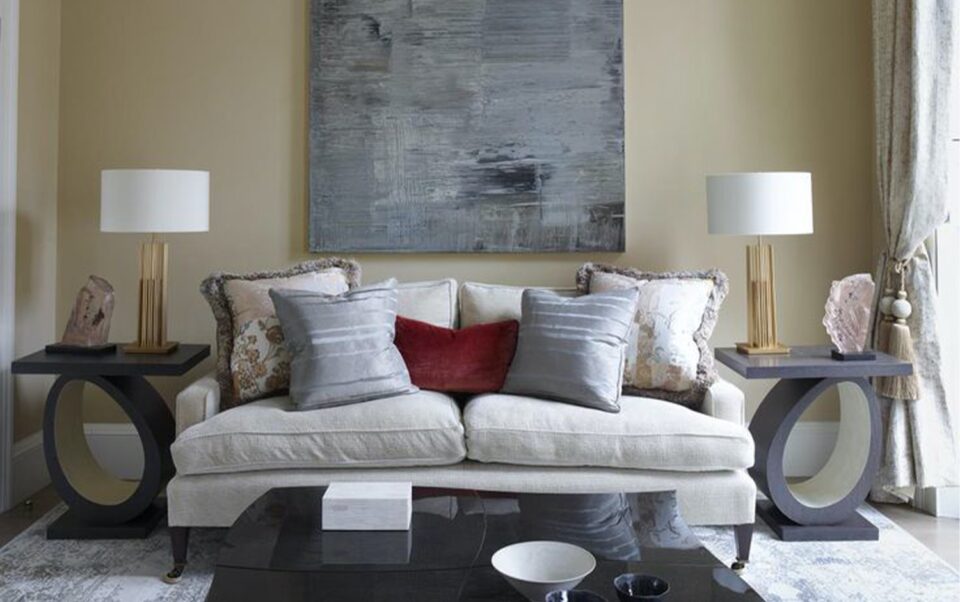 A pair of Artesian Occasional Tables.
You can choose to have the top and bottom in matching or contrasting colours – giving free rein to your creativity. As for the shape of the base, the options are almost endless, from the wonderfully whimsical Spiraliser to the sweeping lines of the Decanter.
If you want something more low-profile but equally luxurious, the Artesian Occasional Table is sleek and smooth with sculptural curves.
Or there's the Tavistock and Stanford, both small, unobtrusive, but elegant, ideal for placing next to a sofa.
Shop the Story
Storage for Modern Living Rooms
Nothing kills a well-considered space quite like clutter, which is why you need plenty of smart storage solutions in your luxury sitting room.
The best place to hide all that mess? Inside a cabinet. DAVIDSON's Brooklyn Cabinet not only offers ample storage space but is a work of art in itself, with its spectacular radial pattern – a demonstration of impeccable craftsmanship and skill.
Or there's the Palisades – a spectacular option for those who want plenty of colour and vibrancy in their living room. Meanwhile, the classic Chiltern is a good choice for smaller living rooms. As well, or instead of, cabinets, you can choose to keep everything on display with a console table.
Place a lamp and a collection of knick-knacks on the Scarsdale, whose dramatic profile will lend immediate impact to your sitting room.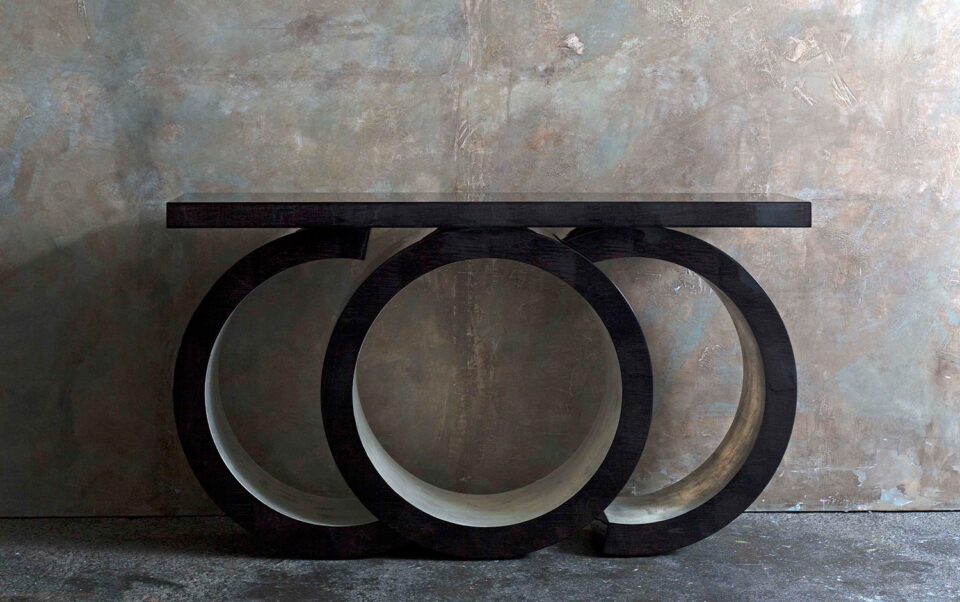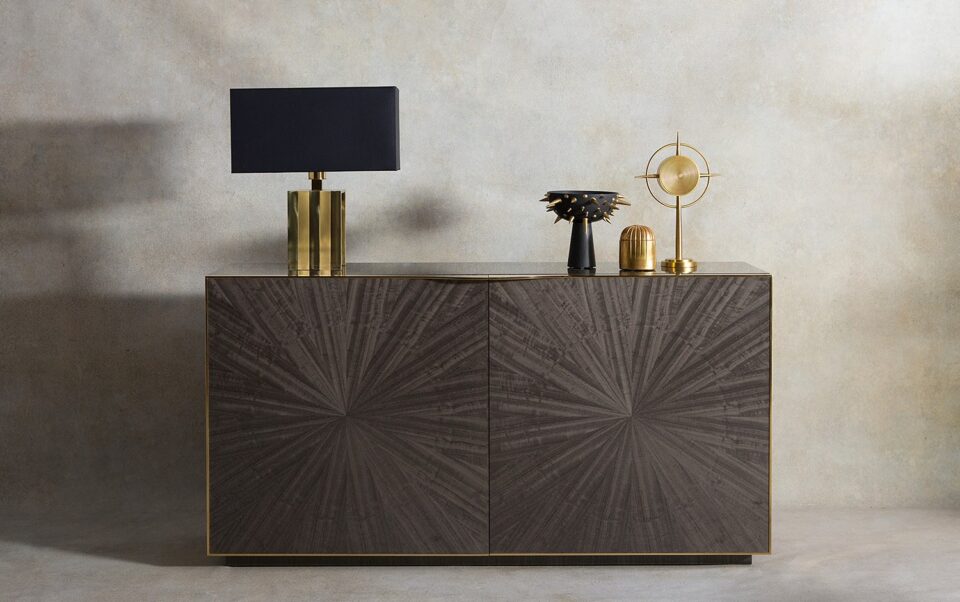 Layout
Now all the main pieces have been chosen, how to arrange your sitting room furniture? Play around with different combinations. Here are a few pointers:
Settle on a focal point, whether that's your statement coffee table, the original fireplace, or a mirror or artwork.
Place your furniture in arrangements that encourage conversation. The sitting room is a social space, after all.
Remember that the furniture doesn't have to be set against the wall. Having space behind the sofa, for example, can create balance and makes the room look bigger.
Larger spaces can be divided according to function. Could one corner of your sitting room serve as a home office or a dining room?
Lighting & Accessories
Playing around with lighting is one of the best sitting room decor ideas. One common mistake people make is opting for stark overhead lighting that isn't at all flattering. Instead, go for a combination of different lamps at different levels. For example, pendants and chandeliers alongside standing lamps and table lamps.
Cushions are, of course, essential, and a great opportunity to add interesting textures and textiles to the space. Pouffes are another good accessory – or what about a stool like the Wilcox?
When it comes to artwork, you could opt for a single large-scale piece to impart serious wow-factor. Or what about a gallery wall made up of lots of smaller works?
Accessorise with small knick-knacks and trinkets. Mixing up styles avoids that cold 'showroom feel.' Vintage finds can bring character, while organic elements, including plants, add life and dynamism. Position them so as to draw attention to certain sections of the room but avoid overcrowding. The mood should be effortlessly artful.
Mirrors, of course, can provide a wonderful final touch – or even a focal point for a space. As for rugs, they should be big enough that all the furniture can sit on it comfortably. There should also be around 15 inches between the rug and the walls, which means, in general, that you want one at least 8 by 10 feet, unless your living room is very small
Finally, as a unique last touch, what about a games table? Enjoy your favourite game in impeccable style with the Babington Games Table, an exclusive games table that brings a newfound glamour to centuries-old pastimes.