At DAVIDSON, we are known for our high gloss lacquer. Perfected by our expert craftsmen for more than 20 years, our lacquering process finishes are what give our furniture that extra-special lustre, but what exactly is lacquer? It's an ancient technique, but its modern-day use refers to a range of clear or coloured finishes on wood that is dried by solvent evaporation or a curing process to produce a hard, durable finish. It also gives the wood a sheen that can range from ultra-matte to high gloss.
A Brief History of Lacquering
The Chinese invented lacquering a thousand years ago, it dates back as early as the Shang Dynasty. It was discovered that the resin from the lacquer tree could be extracted and used to make hard, yet lightweight vessels. This was built up in very thin layers through repeated dipping of wood, bamboo or cloth. Originally intended as a form of waterproof protection, the process rapidly became a popular way to decorate fine objects thanks to the introduction of pigments. These were usually red and black, although sometimes also green and yellow.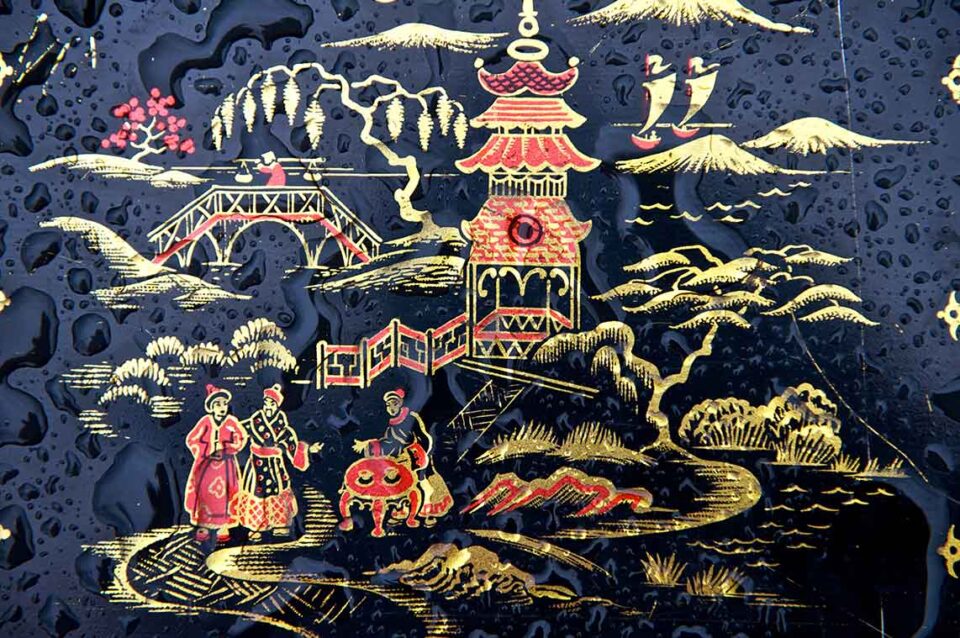 Vintage Chinese Lacquer, by THOR [CC BY 2.0].
China's lacquer industry went from strength to strength. At one point it rivalled bronze among the wealthy as a means of making offerings in ancestral ceremonies. Because of its waterproof properties, archaeologists have found many pristine examples that date back to the late 5th century BC. Sometime in the middle of the 6th century, both the lacquer tree and the technique were introduced into Japan and over time its artisans would create a process and look that was distinct from the old Chinese ways.
For centuries, lacquering was only practised and enjoyed in the East. Around the 17th century, the Dutch and English East India Companies began to bring goods to markets in Amsterdam and London. Lacquered pieces quickly found popularity among the European elite. Such was the fascination with this ancient Asian art that the Chinese and Japanese began to craft lacquered furniture in forms and styles to suit Western tastes. As demand grew, European craftsmen even attempted to imitate Asian lacquer by devising complex recipes using the ingredients available to them, such as sandarac (the resin of the North African Thuya tree), or shellac (a resin derived from the secretions of an insect living on trees in India).
Even so, Eastern-inspired motifs were still popular and would continue to influence Western furniture designs for many years to come. Such early 18th Century European examples were in the form of highly decorative, colourful bureau cabinets.
Today, traditional lacquering methods are still used but tend to be on a smaller scale. The larger market now looks for harder-wearing processes of lacquering and varnishing to protect and show high-end pieces of furniture in the best manner.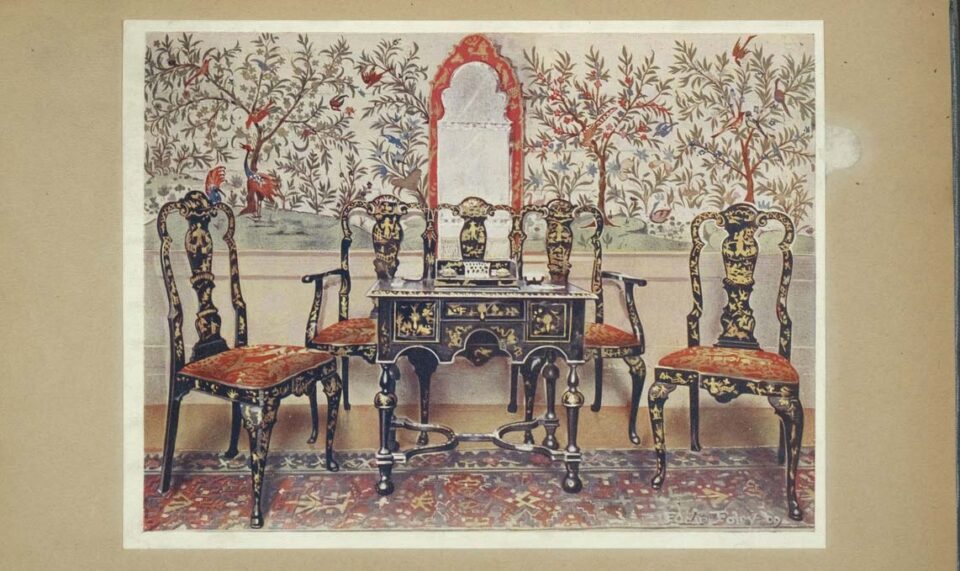 Black Lacquer settee, chairs and table, red lacquer mirror, property of Viscountess Wolseley. From The book of decorative furniture: its form, colour, & history, New York Public Library Digital Collections.
What's the Difference Between Polyurethane Lacquer, Polyester, Acrylic Lacquer and Shellac?
Polyester, polyurethane and acrylic are all modern lacquers, the principal lacquers used in modern furniture making. Here's a brief description of how to distinguish them:
Polyurethane:
A type of modern lacquer that dries to form a hard surface, polyurethane is available in both water- and oil-based options. Polyurethane is thinner than both acrylic and polyester, which can have advantages when lacquering certain materials, and dries to form a hard surface. It comes in varieties of sheens that range from satin to glossy. Polyurethane is relatively clear, though does have a slight colour (which is visible if poured into a clear glass). It's fine for use with dark woods like Macassar but can taint natural vellum and paler woods.
Polyester:
Polyester is a resin and has similarities to polyurethane but is thicker in its makeup. Quite often, furniture makers will use polyester as it's particularly good at filling the furrows of open-grain timbers. Typically, polyester is applied to start with and then polyurethane (which is thinner) is used to finish as a top coat. If a sample of wood or a veneer has a very large open grain, a smooth surface can be achieved more easily, and with fewer coats, by using polyester.
Acrylic:
Lacquer makers are continually developing new formulas to achieve their desired properties. Acrylic lacquer has become ever more popular in recent years. This is partly because it's water-clear, and therefore doesn't tint paler timber and woods. Especially with high-build finishes, where layer upon layer is needed, its superior clarity makes it a favourable choice. The only disadvantage for furniture makers is that it takes longer to 'cure' or dry.
Shellac (French Polish):
An old-style lacquer commonly used for finishing antique furniture, shellac – or French polish – is a natural product made originally by combining a secretion from the female lac bug with a solvent such as alcohol. It dries to form a relatively hard protective coating for wood that has a warm amber tone. If subjected to heat or moisture though, it will likely deteriorate. For example, white rings will appear under a hot mug or the damp foot ring of glass. Also susceptible to chemical damage, this can be a consideration if being applied to dressing tables or a workbench. It greatly enhances fine furniture as long as proper care is taken. Today it's more often used in the antique trade for restoring or re-lacquering.
Discover High Gloss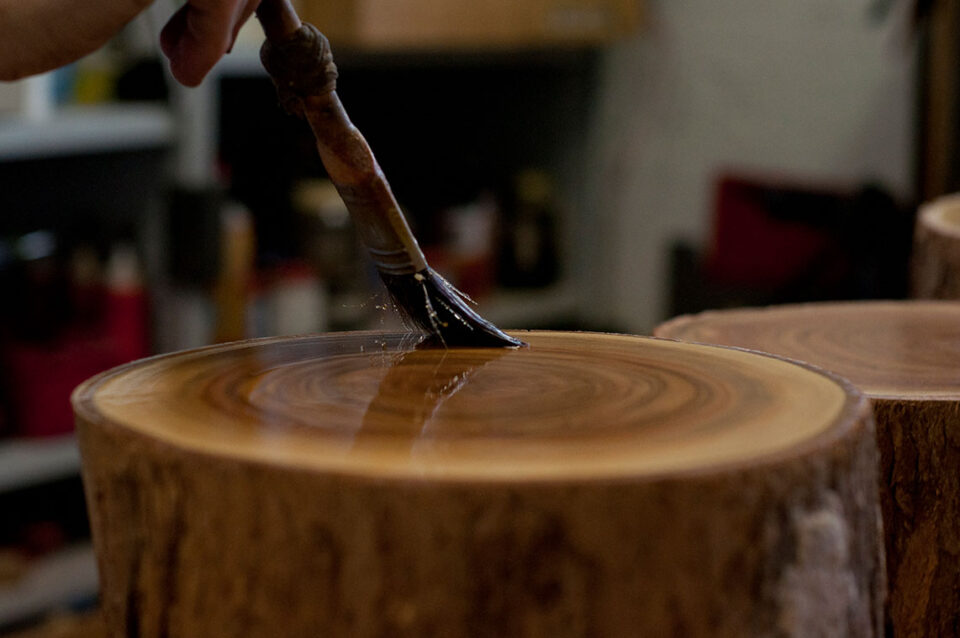 The Benefits of Modern Lacquers
As well as providing aesthetic appeal, modern lacquer is most rated for its durability. It lasts for many years without flaking, chipping or yellowing. With modern luxury furniture makers using substrate materials that can withstand extreme changes in humidity and heat caused by air-conditioning, under-floor heating and sealed window units, the lacquer will protect a piece for decades, if treated with respect.
It's Tough
Matte or satin versions, provide a less scratch-prone coating than more traditional, high-sheen finishes, such as French polish. Likewise, if you spill liquid onto a modern-lacquered table, it will just sit on the surface without staining it, whereas French polish will mark relatively easily.
It's Versatile
Modern, water-clear lacquers protect without tinting pale woods, allowing the grain to shine through. A benefit is that increasingly effective UV inhibitors are added to their mixtures. This stabilises the colour of the wood and helps to protect it from the effects of direct sunlight.
How Glossy Can You Go?
Lacquer comes in varying percentages of finish from flat matte (2%-10%), through satin (20-40%), to very high gloss (80-90%). It all depends on how much sheen you want on your furniture. Here are examples of each and how they beautifully finish some of our favourite pieces.
Matte finish:
Often used on paler woods or open-grain woods, a matte lacquer can be just as attractive on a dark grain, as shown by our Olympia table, which is finished in matte open-grain oak with brushed brass detailing. Both hard-wearing and smart, it's the ideal choice for everyday dining.
Satin finish:
At DAVIDSON, we pride ourselves on selecting the perfect finish to show off each piece's wood to the highest level and the satin sheen on sycamore black of The Hatfield Chest does exactly that. The attractive pattern of the dark grain beautifully contrasts with the polished nickel handles. An elegant addition to any bedroom.
High gloss:
If you're after high style with a high shine, take a look at our Hanover cabinet. Finished in rich and glossy Macassar ebony that contrasts spectacularly with the shimmering white gold leaf, this sleek cabinet effortlessly combines high-end design with practical storage.