Shine and Sheen: How to Style High-gloss Furniture
There's no better way to add high drama to your interior than with high gloss. This sleek finish offers the ultimate sophistication boost with its mirror-like sheen that reflects light, injects energy, and instils an unmistakable air of high-end glamour.
If you're looking for a way to elevate your room scheme with a unique and bold decor choice, high-gloss furniture is an ideal choice. Not only is it resilient and easy to clean but it's also incredibly versatile, looking as striking in traditional homes as it does in more contemporary spaces.
A type of lacquer, high-gloss can bounce light, creating a sense of more space as well as adding aesthetic interest. The last word in lustrous, this speciality finish offers slick magnetism and an undeniable wow factor.
That said, gloss furniture is not the easiest finish to style. You need to consider the nature of your space, decide whether you want a subtle high-gloss accent or a major statement piece, and pick the right colours and textures for the rest of the room.
Here's everything you need to know about styling gloss furniture in your home.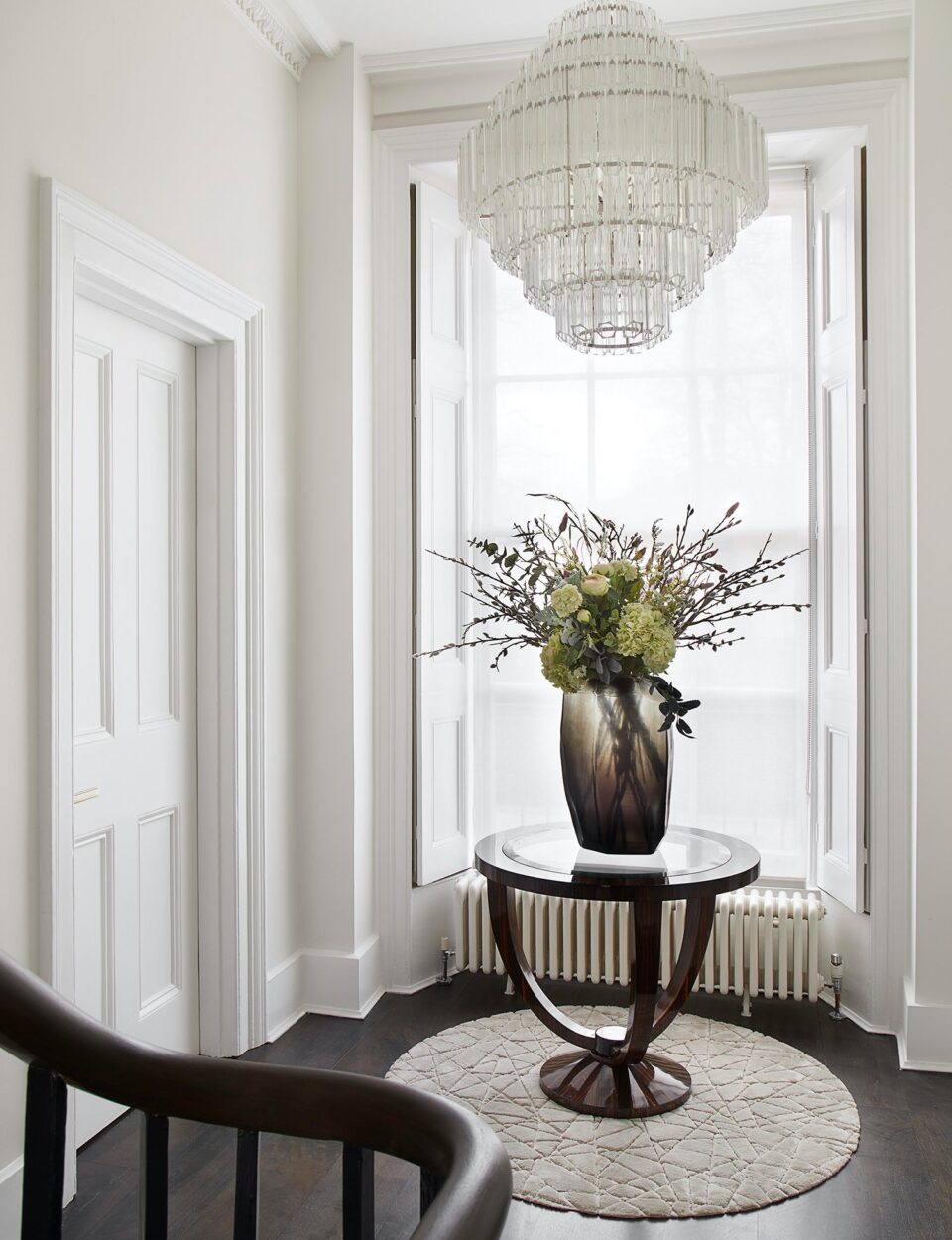 The Hester Occasional Table | Interiors by Sixty3 London Photography by Julian Abrams
Start With Statement High-gloss Furniture
If you're new to the high-gloss trend, begin by experimenting with a single piece of furniture with this finish. This will allow you to become accustomed to the style and see how it works in your home.
You might opt for a side table, for example, such as DAVIDSON's Hester Occasional Table, with its Art Deco-inspired form and sultry high-gloss Macassar ebony finish. Similarly elegant is our Ophelia Console, with its swooping pedestal and high-gloss metallic grey eucalyptus finish.
Want something more high-impact? Check out our Melrose Coffee Table, with its contrasting sycamore black and high-gloss white lacquer—a masterpiece in monochrome.
Or what about DAVIDSON's Rivington Dining Table? With its contemporary silhouette and powerful duo of finishes (satin sycamore and high-gloss sycamore black) complemented by brushed brass metalwork, it creates indisputable drama.
And any of the tables in our Wanderlust Collection demonstrate the power of high-gloss lacquer to beguile, with acrylic sprayed over a pearlescent base to create a sensational shine in a range of gutsy colours.
With DAVIDSON's Fitted service, clients can also commission a home office to fit their unique space. This might include a high-gloss finish, such as with the furniture in our Eclipse Home Office Collection, which consists of a luxury Writing Desk, Fitted Wall Unit, and Fitted Alcove Unit. The collection can be customised to any home office layout and features sleek lines and thoughtfully considered storage. It's available in three materials—sycamore black, shadow grey anegre, or Macassar ebony—and with either a satin or high-gloss finish.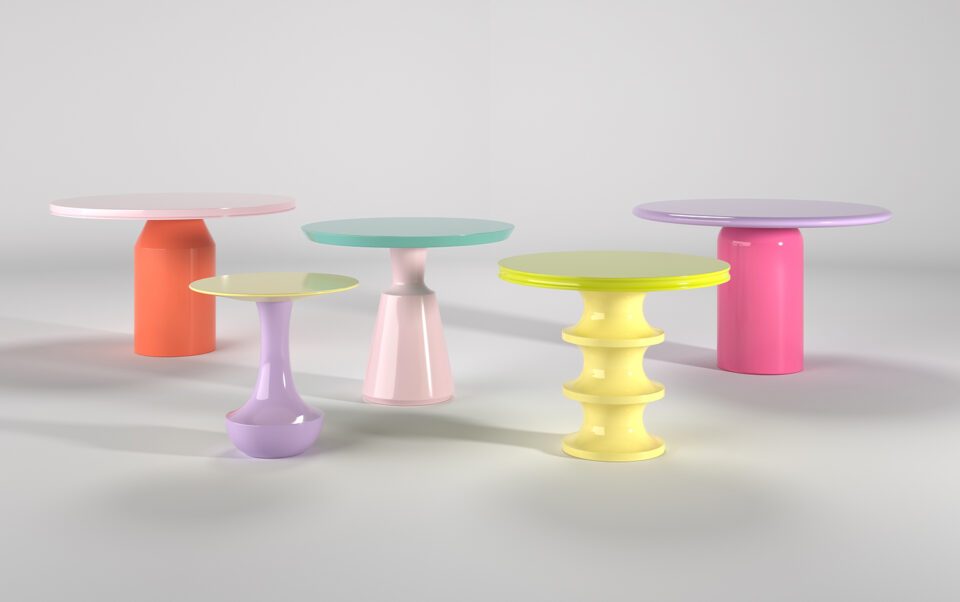 The Wanderlust Collection by DAVIDSON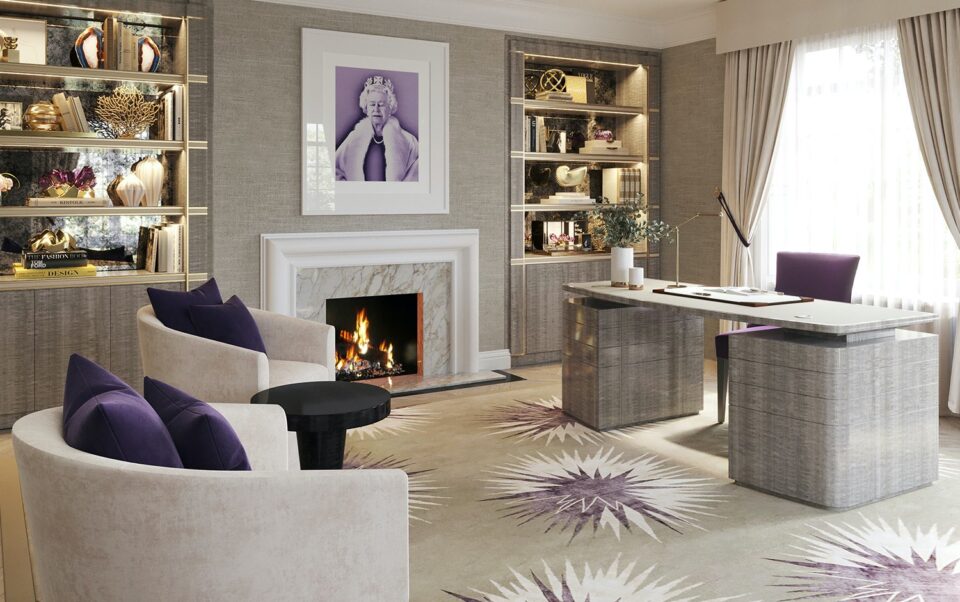 The Eclipse Home Office Collection
Another way to incorporate gloss into your home is in the form of a home bar. No better way to impress guests than with a custom-fitted bar complete with a dazzling high-shine finish to match the glint and gleam of the cocktail equipment inside.
Whatever high-gloss furniture you choose, remember that the goal is to enhance and complement the intended mood of the room, whether that's low-profile luxury or something more high-impact and theatrical.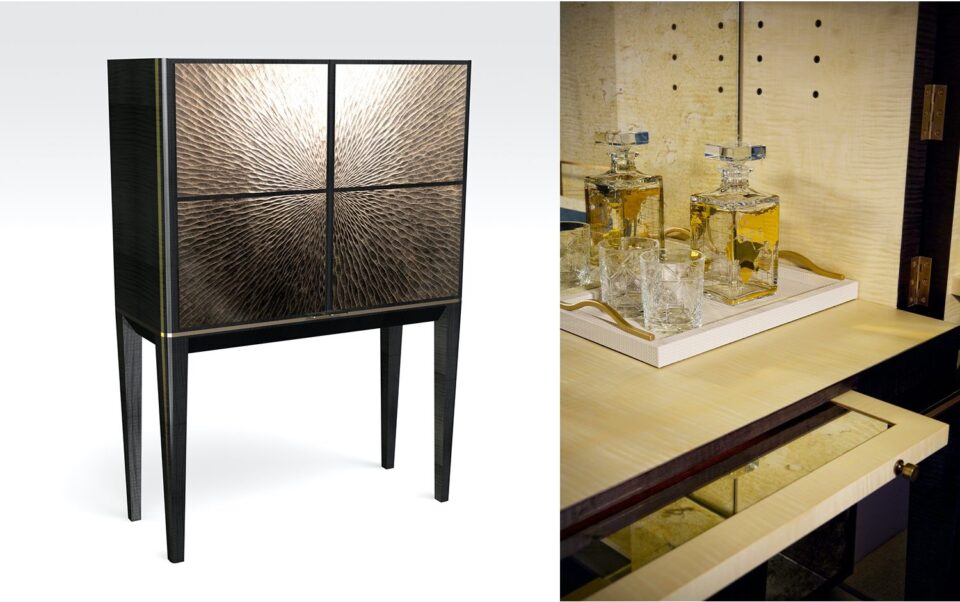 Take It One Step Further
Already incorporated high-gloss furniture into your home? Now's the time to take the plunge with a more statement-making decor choice and add high gloss to other features in your room. The finish can be applied to walls, doors, and panelling, creating intensity and an enigmatic mood.
What about a single accent wall in a moody hue such as burnt aubergine, for example? Or, at the furthest end of the spectrum, high gloss lacquer can have a wet-look effect which can be spectacular when used on interior doors.
Or why not go big and bold by adding high shine to your ceiling? A reflective finish creates an enchanting contrast of rich colour with an ever-changing play of light.
While high gloss has the advantage of being more or less indestructible and fairly low maintenance, you do need to consider the condition of your walls and ceiling. This finish can show up any defects, such as cracks or dimples and although it can be charming on shabby walls, for a sleek and modern look, you'll have to have the surface sanded.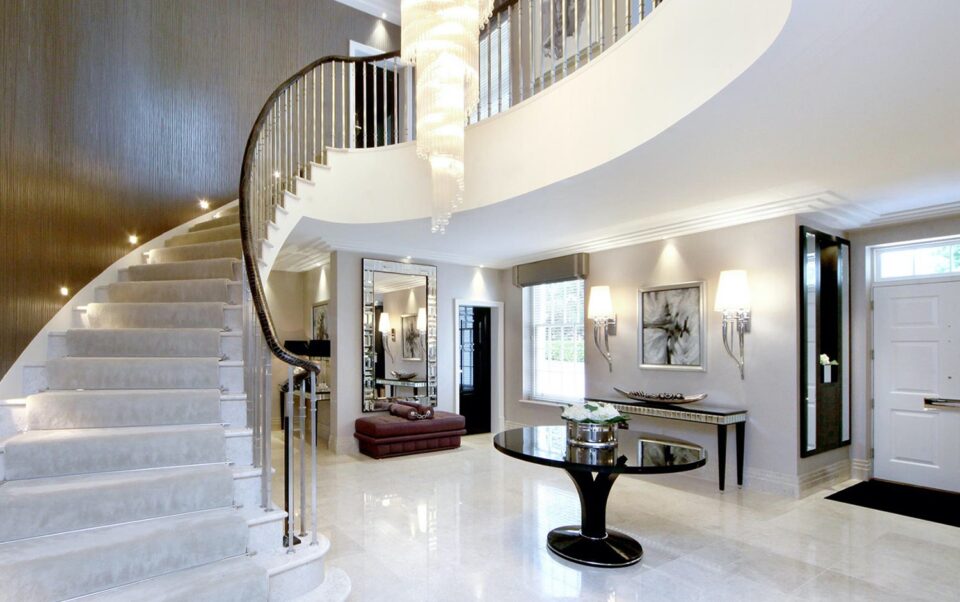 The Carlton Table | Interior design project by Hill House Interiors
Use High-gloss to Enhance Architectural Features
Another way to add high-gloss to your interior is by using it to highlight certain architectural features, such as your fireplace, wall moulding, trims and wainscoting, or a sloping ceiling.
Choose a vibrant colour to add a pop of life to your room scheme. Or opt for the same colour as the walls, allowing the contrast of high-gloss and matt finishes to make an impact.
Consider Colour
The lustrous nature of high-gloss makes it well suited to vibrant jewel tones. Think inky blue, magenta, crimson, emerald green, and ochre yellow—colours that add a definite romantic flair.
DAVIDSON's Lunar desk, for example, comes in a gorgeous figured blue eucalyptus timber, shimmering like water.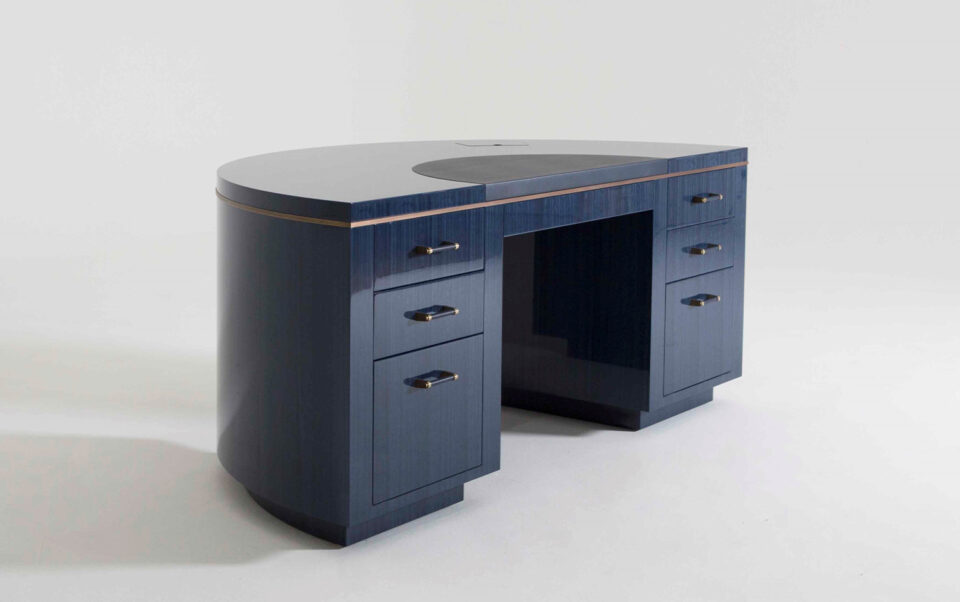 The Lunar Desk in high gloss blue eucalyptus with brushed brass detailing
Or why not go for a darker shade, such as navy, aubergine, or even black? The contrast of shadow and light on a high-gloss surface is truly mesmerising. While such colours could be heavy and overpowering in a matte finish, high-gloss creates dynamism and lift.
Our range of dark-hued furniture, the Nazarova Curve, for example, could amp up the impact of your dining room or kitchen when finished in high-gloss and paired with accessories in vivid pinks or oranges.
On the other hand, lighter shades offer a more subtle and less risky choice. Pale blue, turquoise, or green could feel wonderfully upbeat and cheerful for spring.
Opt for ultra – innovative Finishes
High gloss may look elegant but it does have a tendency to show up dust, scratches, or fingerprints. So if you're contemplating this finish in a room with lots of traffic, where keeping it in pristine condition could be challenging, opt for a finish that's more forgiving when it comes to marks.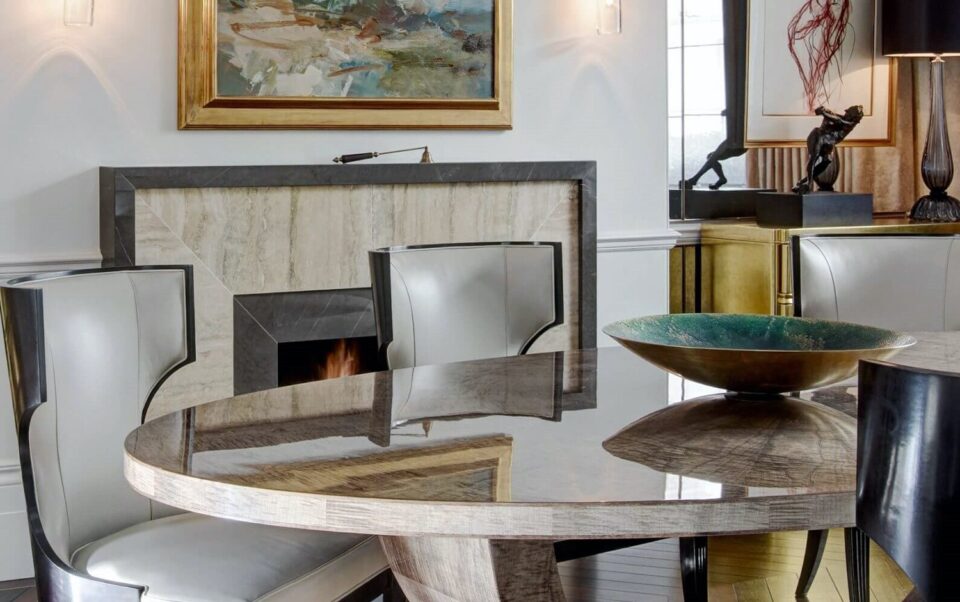 The Ovington Dining Table in high gloss sycamore dusk | Interior design project by Janine Stone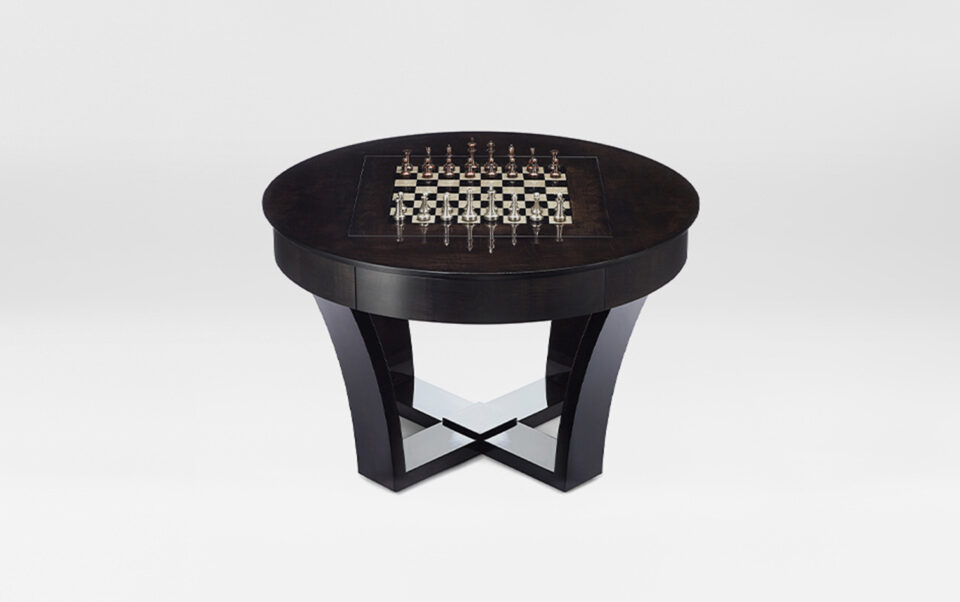 Patterned surfaces or wood with visible grains can be more lenient when it comes to keeping them clean.
To see how innovative finishes offer an unconventional twist on high gloss, check out our Galaxy drinks cabinet, where hand-carved oak finished in antiqued liquid bronze creates a celestially inspired aesthetic.
Or add high-gloss to your interior in the form of a stylish entertainment solution like the Grafton Games Table.
Shop the Story
Use High-gloss to Suggest More Space
One of the easiest ways to make a room feel more airy and spacious is to create more light. This can be done with skylights, mirrors, and artificial lighting sources—but also with a high-gloss finish.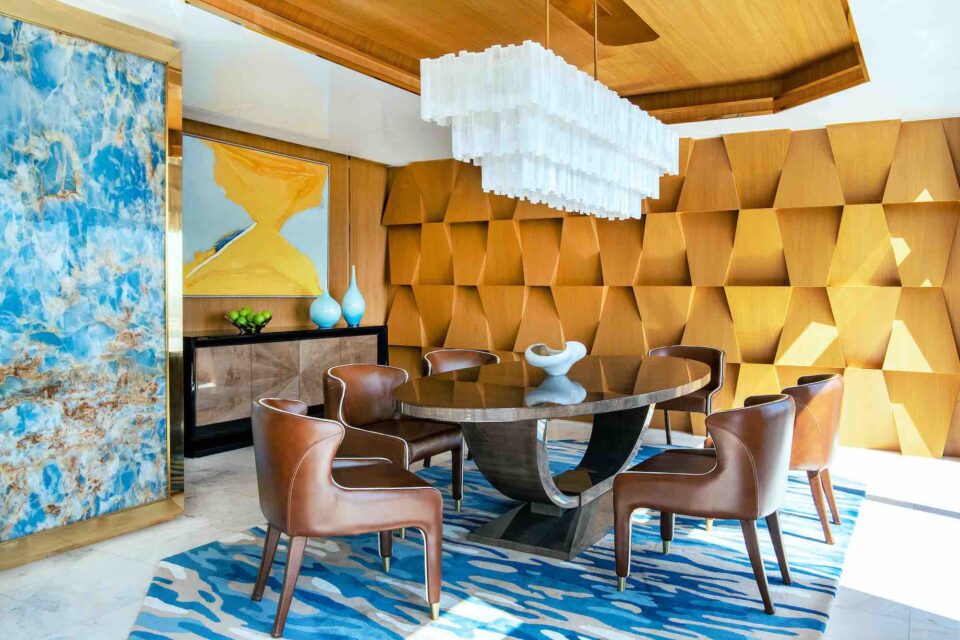 The Ovington Dining Table and Hanover Sideboard | Interior Design by Design Intervention.
The Carlton Table | Interior design project by Jenny Allan Design
With a liquid sheen that allows it to reflect and bounce light around a room, high-gloss can help a room to appear larger and less cramped. Perfect for narrow corridors, awkward nooks and alcoves, or small bedrooms, high-gloss amplifies any light source in a room.
Create Contrast With the Rest of the Room
Interior design is all about creating balance and harmony between different colours, shapes, and textures. Therefore, to really allow your furniture to shine, you need to create contrast with the rest of the space.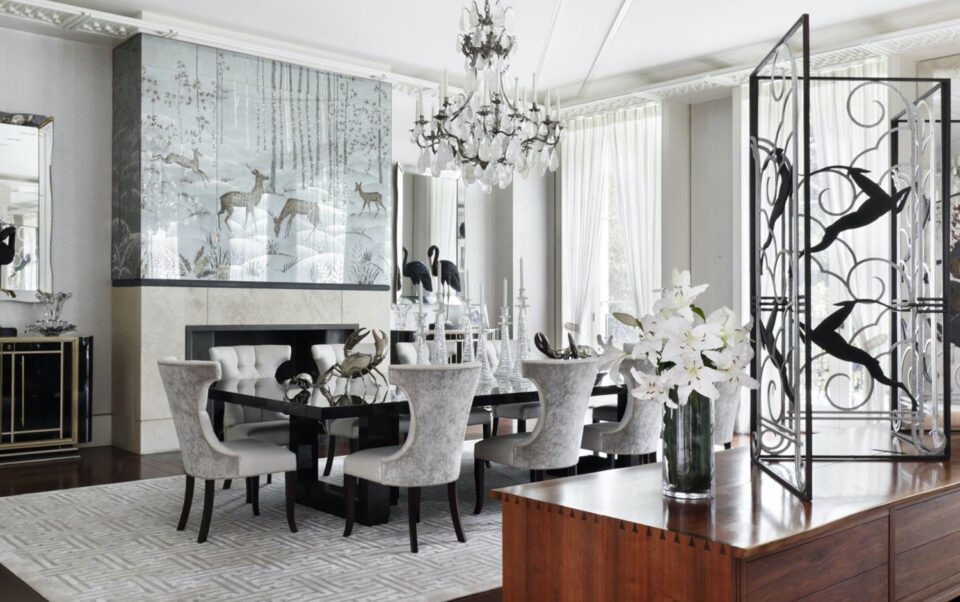 The Hamilton Dining Table | Interior Design by John McCall, photography by Alexander James Photography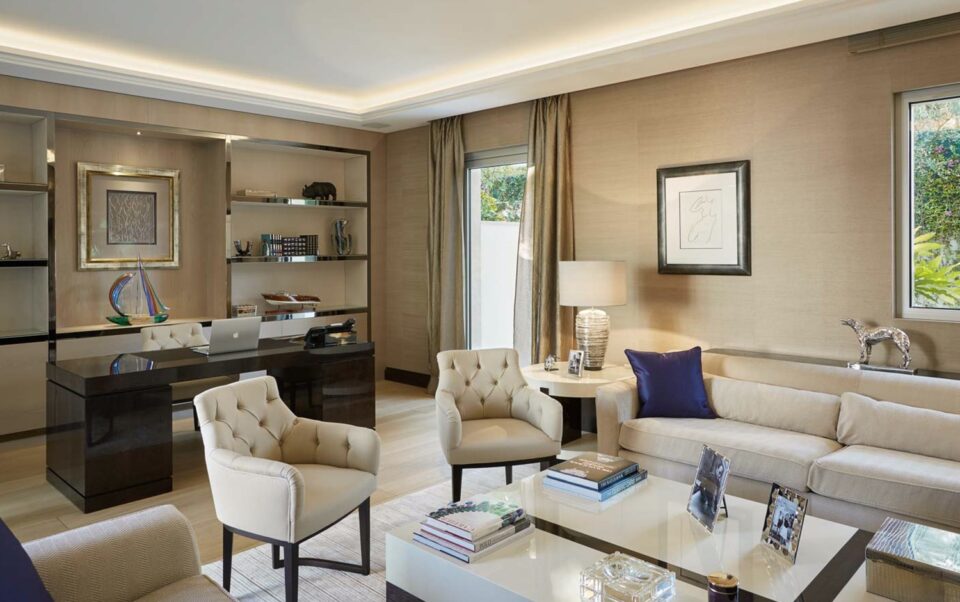 The Melrose Coffee Table and the Wellington Desk | Interior design by Carte Blanche Design
This is particularly effective when you consider textures. High-gloss is slick and cool so create friction by adding in the cosy warmth of wools, velvets, and natural materials such as wood. Roughly hewn pottery and pot plants could also soften the finish.
High-gloss can also look fabulous next to steel and brick for a more industrial vibe. And rugs are a must, especially in materials such as sisal, which sets off its glossy beauty perfectly.
Enhance the Shine With Metallics
While throwing high-gloss into relief with contrasting textures is very powerful, you can also amplify the gleam with other high-shine accents like metallics.
Any additions in gold, rose gold, bronze, or brass will add to the glamorous mood of your interior.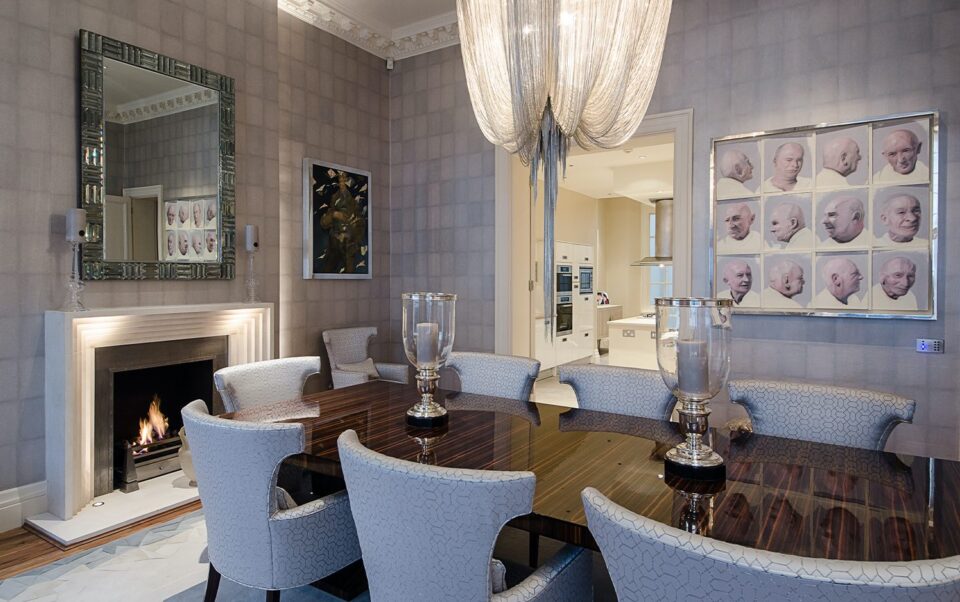 The Grace Table and the Brunswick Chair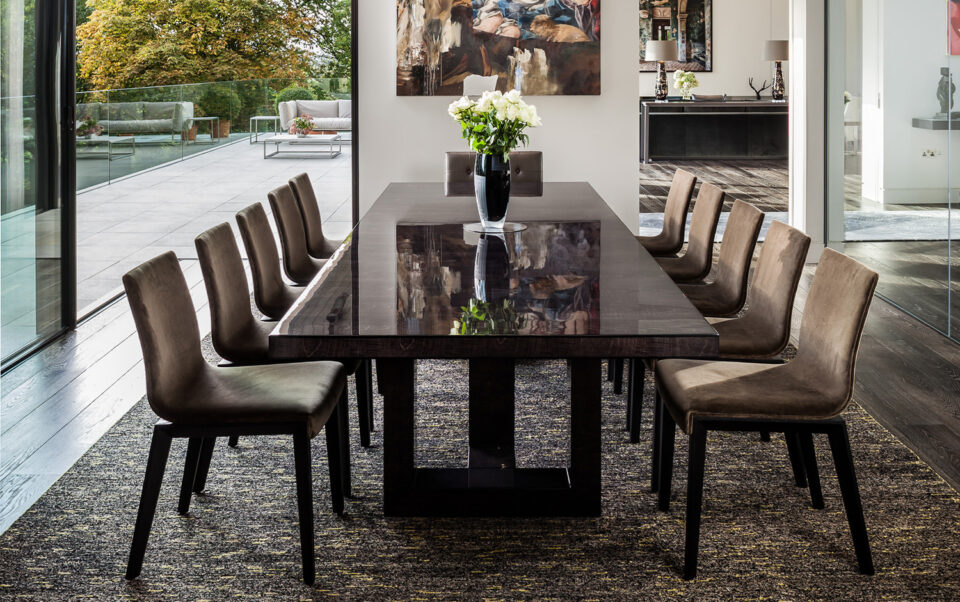 The Hamilton Dining Table | Interior Design Project and Photography credit Joanna Williams Interior
This can be done in a very subtle way, such as metallic embroidery on curtains and upholstering, or the addition of small ornaments, coffee table trays, or candle holders. A metallic framed mirror is another option.
Of course, metallics with a satin finish are also an option if you don't want to overwhelm the space with shiny accessories. And remember to soften the look with other textures, too, such as mohair or rattan.
Watch Out for Lighting
Finally, when incorporating high-gloss, you need to consider your lighting sources. Downlighting and harsh overhead artificial lighting won't show high-gloss at its best as they're too stark and targeted.
Natural sunlight is the best choice, with skylights being a top solution, allowing high-gloss to reveal its innate luminosity. Other options include table lamps and other low-level lighting options to create a soft and diffused glow.
That said, nothing beats high-gloss combined with candlelight.