Luxury House Tour | A Penthouse in Bangkok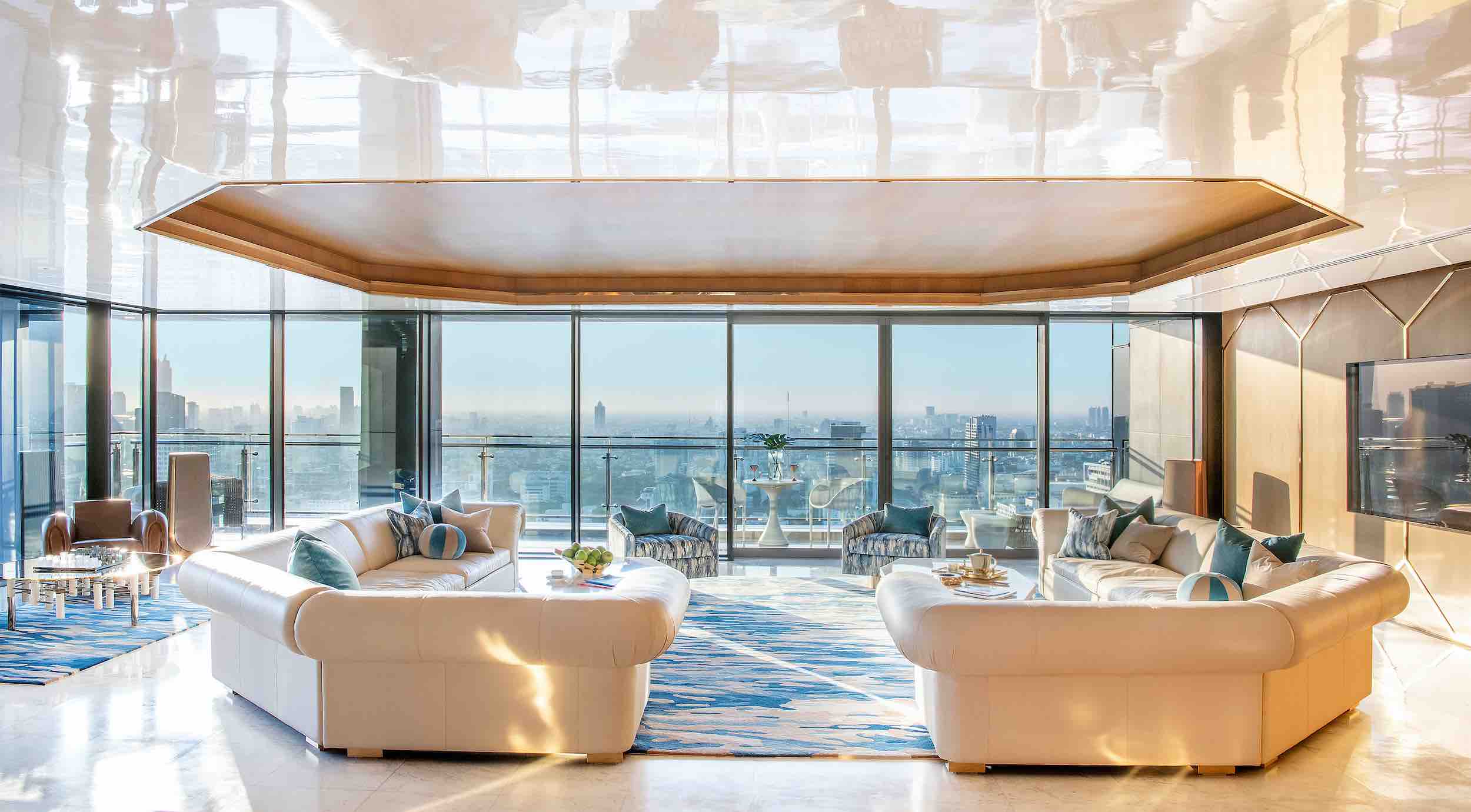 With its sprawling size, prime location, and stellar views of the city skyline, this penthouse, perched atop the St Regis hotel in Bangkok, already had the qualities of a dream abode.
When this client was seeking a studio to design his new home, he was determined to find a firm whose approach would match the majesty of the property. His search was thorough indeed: after meeting several top design studios in Thailand, he looked further afield to Singapore where the work of award-winning firm Design Intervention caught his eye. He then flew the firm's founder Nikki Hunt over to Thailand to view the property.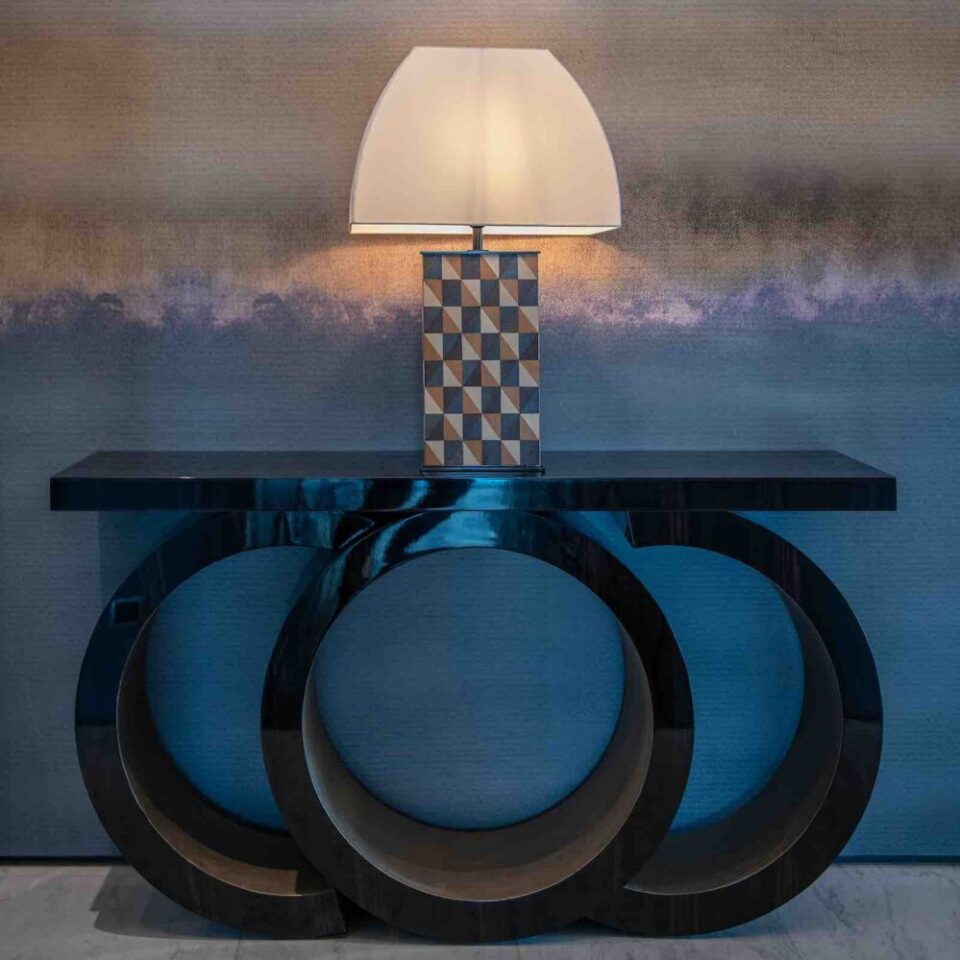 The Scarsdale Console Table adorns the entrance hall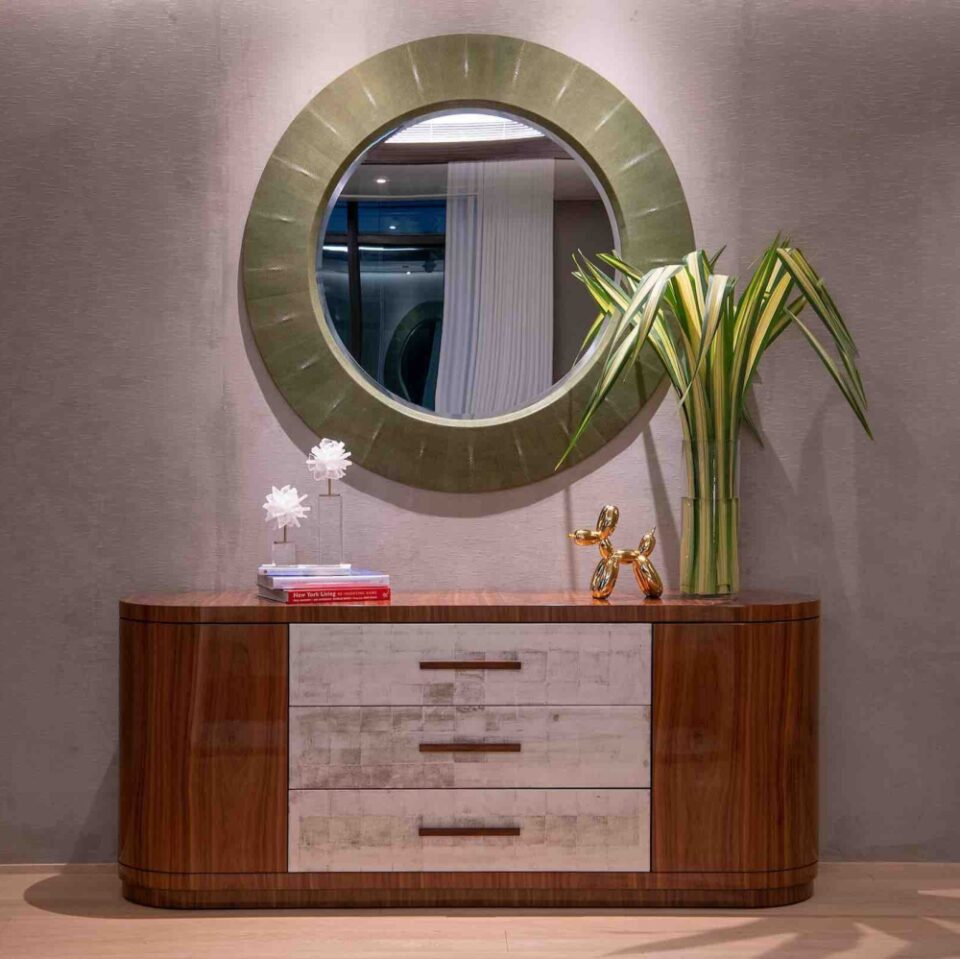 A bespoke chest of drawers inspired by the Winkworth Bedside Table
"I understood what he was hoping for and so he appointed us," she quipped. "The client brief was to have a totally unique and bespoke home," continues Hunt. "He didn't want to walk in and see items that he had seen in other homes, so much of what we included was specially designed for him."
The multidisciplinary studio is no stranger to bespoke requests—in fact, it is Design Intervention's modus operandi. "We craft each and every project to reflect the loves and life of the homeowner, and so our projects are all personalised," says Hunt.
First came the layout. The apartment was originally designed for a family, so Hunt and her team set about redesigning its layout to better suit a bachelor in his thirties. The firm finally settled on an open-plan layout that would best accommodate the client's lifestyle and also put the focus squarely on the apartment's most stunning feature—its views. "We arranged the floor plan to optimise the views," explains Hunt.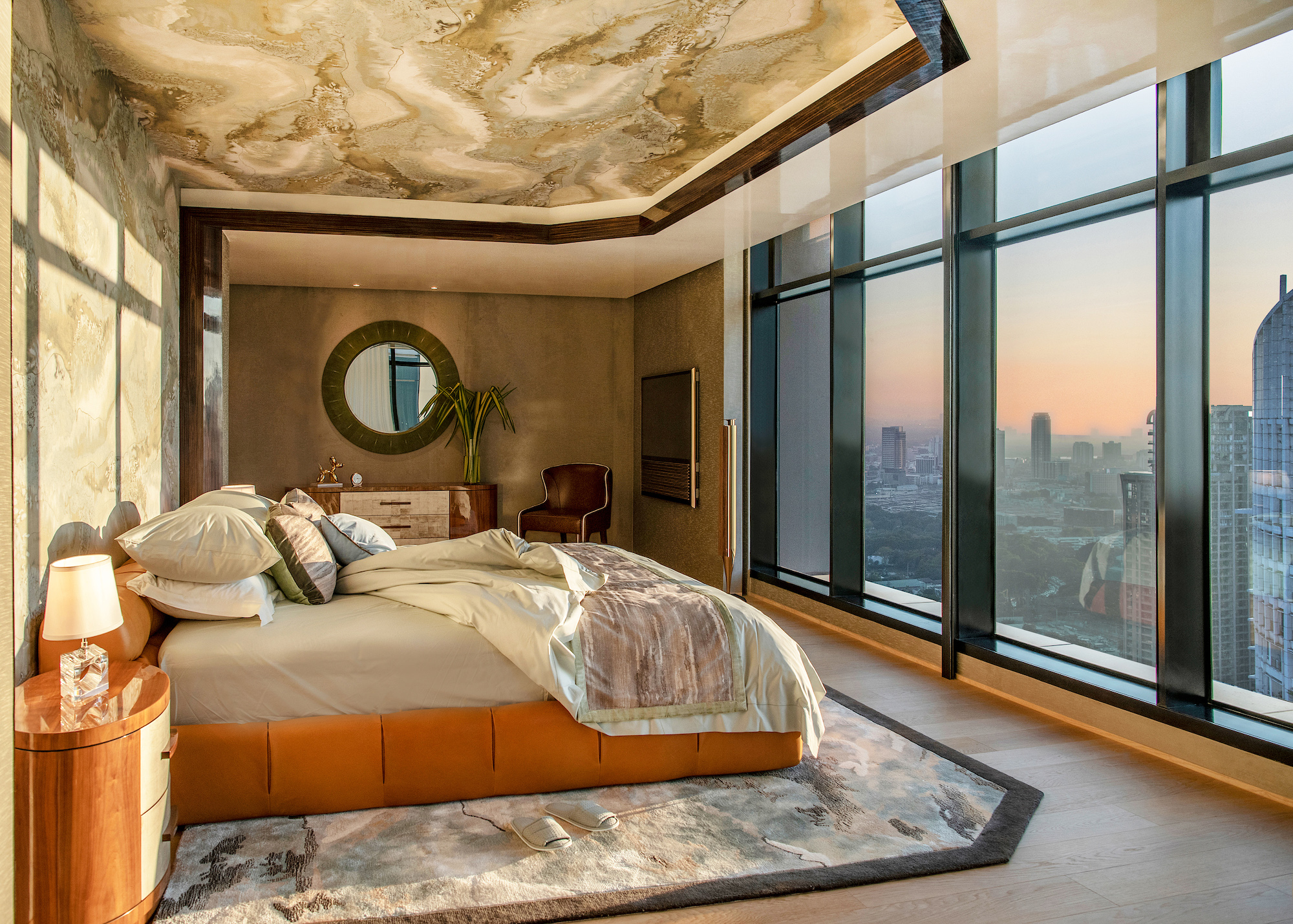 The master bedroom with breathtaking views of Bangkok, with a bespoke leather bed and Oval Winkworth Bedside Tables
Design Intervention turned to texture and layers to add warmth and atmosphere. Evidently, the feature wall in the dining room—incorporating a woven, three-dimensional tessellated pattern in wood—is a prime example. "The wood veneer adds texture. The 3-D effect gives an interesting dimension, and this is intensified by the internal lighting which casts a warm, moody glow," explains Hunt. Every space in the home features statement-making pieces.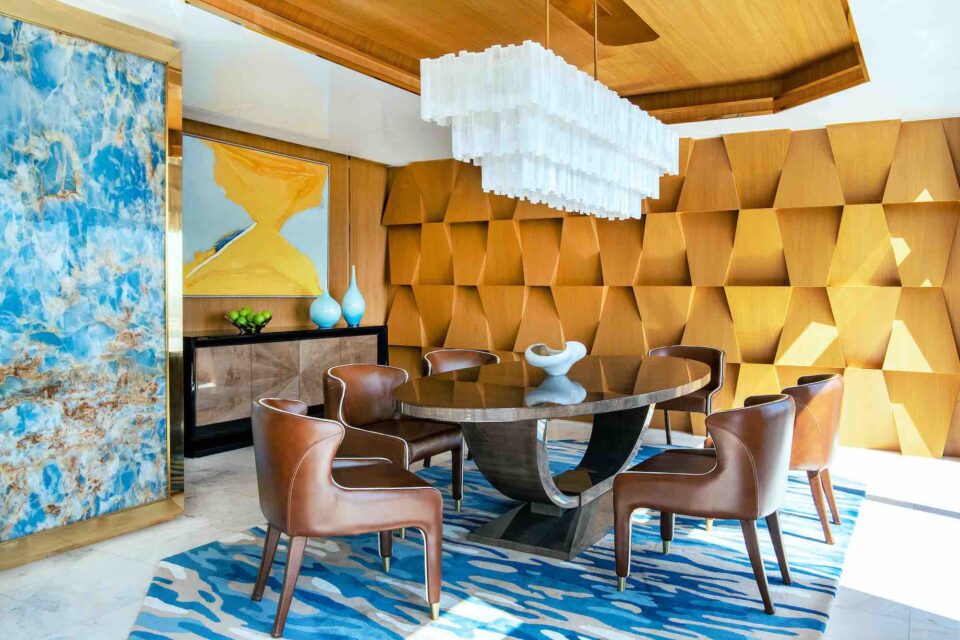 The Ovington Dining Table and Hanover Sideboard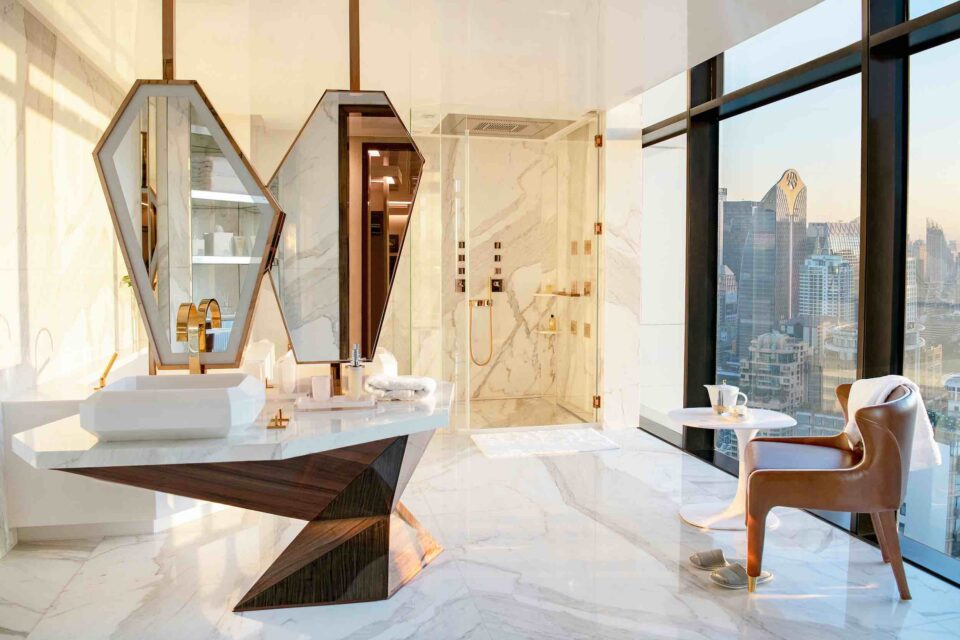 Sculptural marble vanities, for instance, grace the master and guest bathrooms. While a sweeping feature mural extends from behind the headboard up to the ceiling in the master bedroom. In fact, Design Intervention even created a special armchair for the living area. This was designed after the Bugatti Type 57, one of the client's favourite cars.
"Bespoke design is certainly a hallmark of what we do," says Hunt. "With international brand names so easily available, originality has become the new luxury. And bespoke furnishings can give a unique signature to a home." Brand-name pieces were carefully selected. Take, for instance, the desk by Giorgetti and ceiling pendant light by Eichholtz in the office, which accentuate the space's masculine design.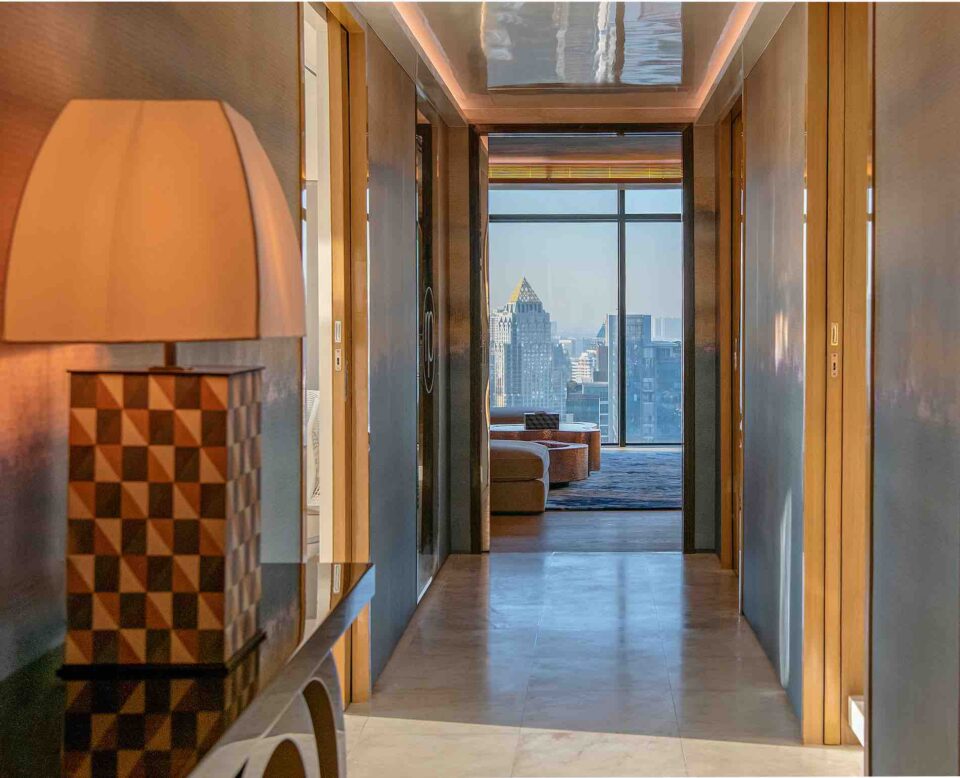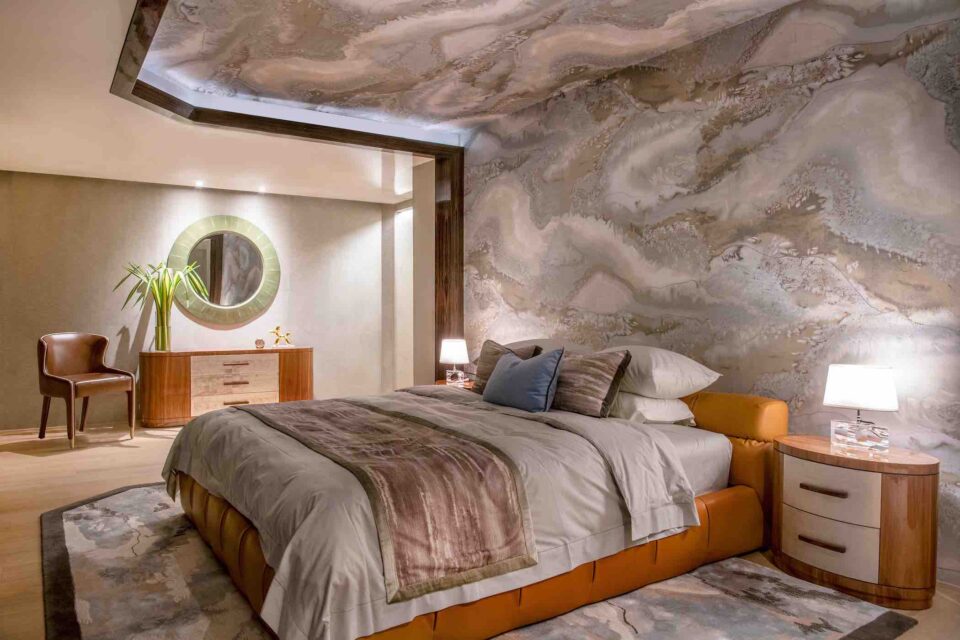 The effort more than paid off. Not only does the owner love his new home, the penthouse also bagged two accolades at the International Property Awards 2020. This was in the Thailand categories for residential apartment design and bathroom design. "The foundation of our design philosophy is that a home should be an extension of your personality. A place where you can truly be yourself, surrounded by the items you love and enjoy," says Hunt.
Shop the Story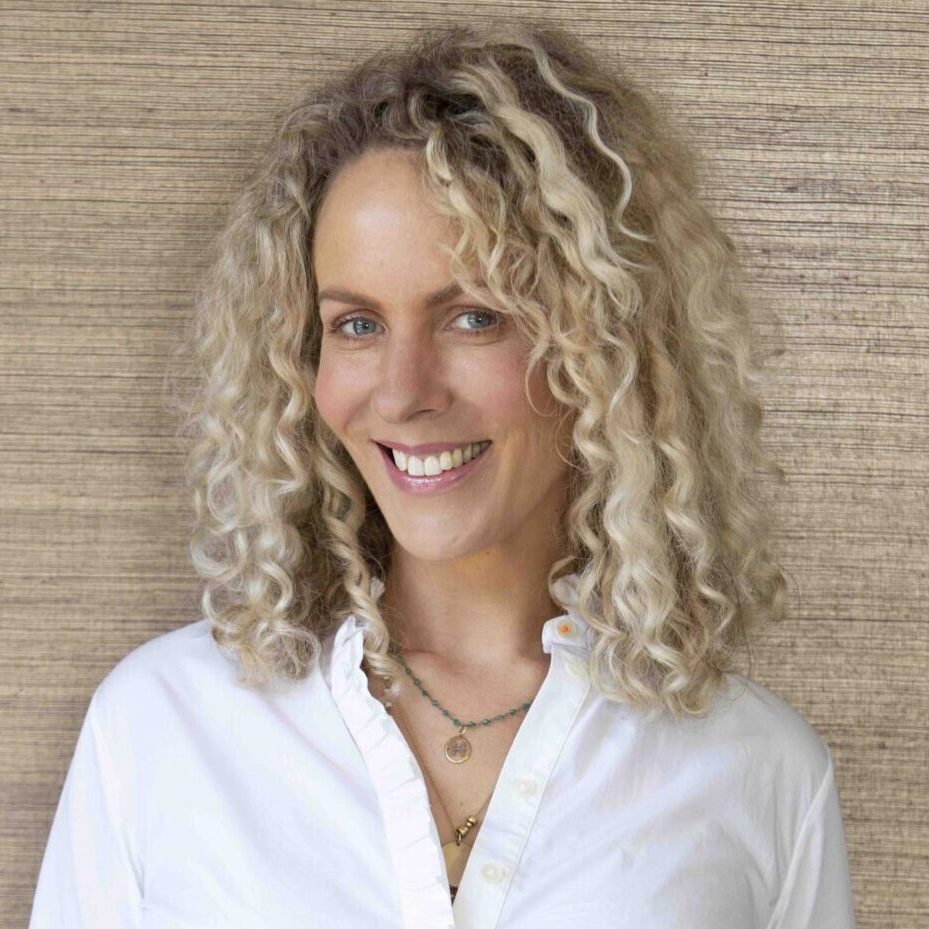 A Word from Our Managing Director
"Making furniture in England, by the hands of artisans who have been honing their craft for decades is close to my heart. Seeing those hand-crafted pieces in a penthouse framed by views of Bangkok is a special kind of magic."
About Design Intervention
We believe that design, like nutrition and fitness, is an essential tool for better living.
The average city dweller, spends 87% of their lives indoors and, like all mammals, humans, are affected by environment. So the design of our interiors influences our health, our happiness – our general wellbeing.
At Design Intervention, we employ the transformative power of design to affect mood, influence behaviour and improve health. Our unique approach, utilizes design as a tool for better living, harnessing the power of our homes for a happier, healthier life.