How to Design the Perfect Open-plan Living Space

The Hanover Cabinet as seen in this exceptional open plan sitting room by Alice Molloy Interiors
Open-plan spaces are a hallmark of modern living and a trend that shows no sign of going anywhere anytime soon. Their popularity is unsurprising. Open-concept spaces are more inclusive and relaxed. They create a lighter and more spacious feel. And they're multifunctional and versatile, allowing you to entertain, cook, and supervise children simultaneously.
Plus, now that we're spending more time than ever at home, a space that simultaneously meets the requirements of kitchen, dining room, living room, and study, is even more appealing.
So how can you create the perfect open-plan living space? How to create that covetable flow with a single wall-free room that can meet the demands of comfort, convenience, and style appeal all at the same time?
Pulling off a harmonious open-concept space requires careful planning and consideration. Here are DAVIDSON's top tips for designing and curating the perfect open-plan living room.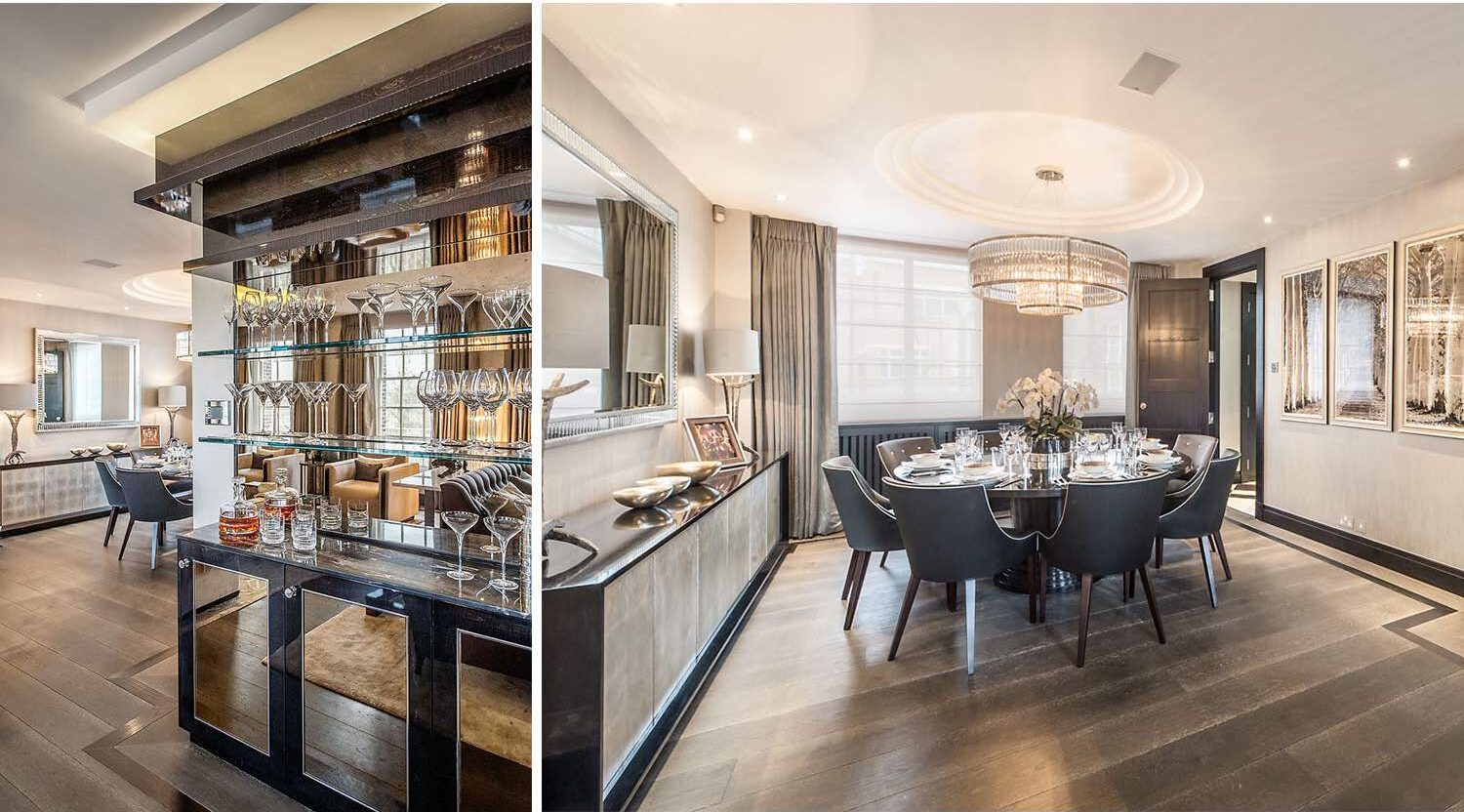 The Hanover Cabinet as seen in this exceptional open-plan dining room and home bar by Alice Molloy Interiors
Choosing a Multi-purpose Space
Want to create the dream kitchen-dining room hybrid? Incorporate a home office into your living room? Convert your basement into a single free-flowing space? Ditch your ground-floor walls for something more open and airy? First, decide what you mean by open-plan. Just how open do you really want it to be? The answer will depend on both your needs and design preferences.
Is practicality a priority? What about socializing? Do you want to create a family hub where you can chat with your children in the living area while preparing dinner in the kitchen? Do you plan to entertain guests regularly after lockdown regulations ease and want a space that allows you to be involved in the conversation while cooking?
Or do you want a relaxing refuge where privacy is always possible? And have you considered that maybe you need somewhere where you can exercise too — now that our homes have also become our gyms?
Answering these questions will help you determine what kind of open plan layout would suit your living situation best, and how many dividers and free-standing walls might be necessary.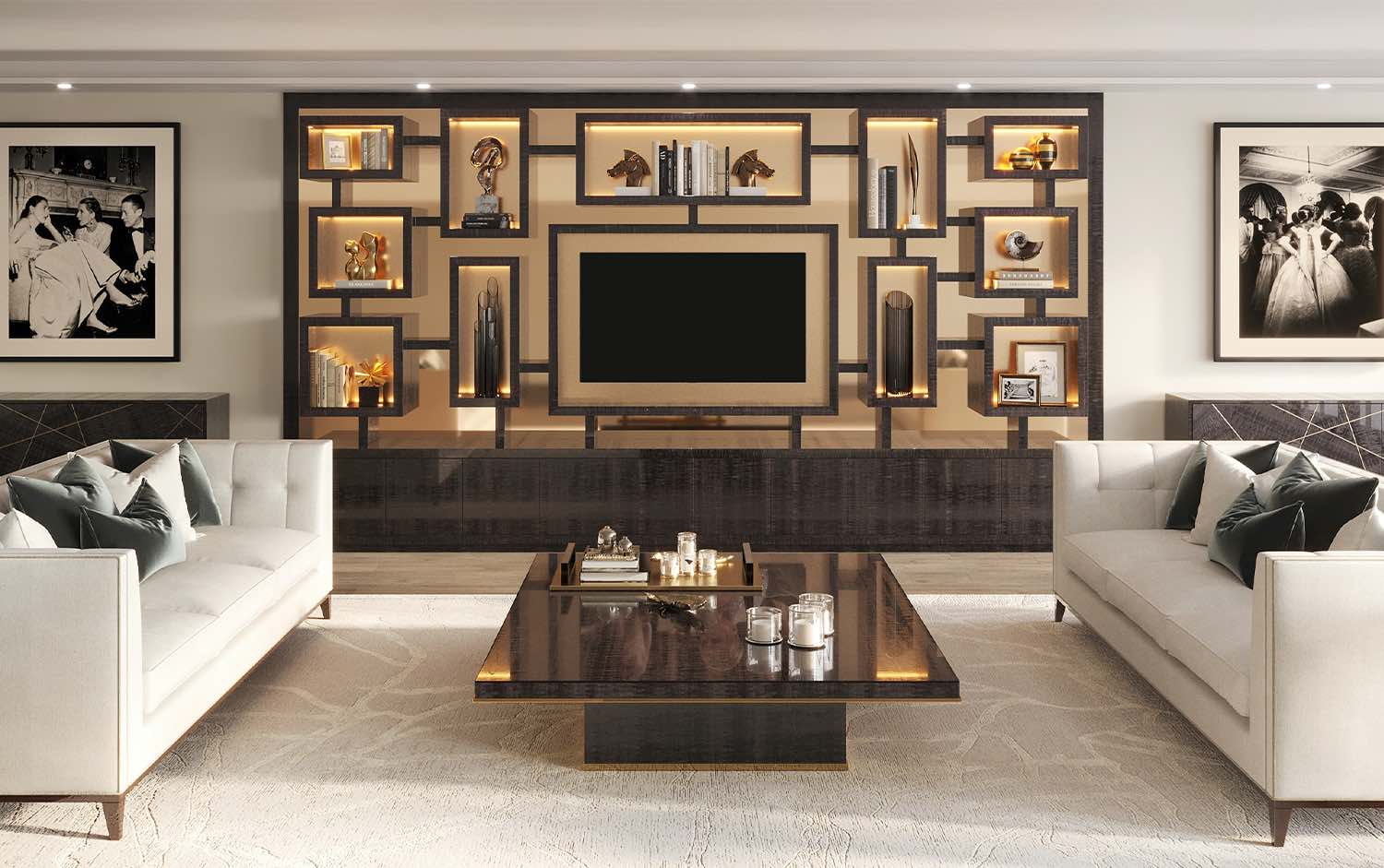 Consider the Style of Your Property
We often associate open-plan interiors with more modern properties or large airy spaces such as barn conversions or warehouses. However, period properties can also benefit from an open plan design. Older houses that suffer from being a bit dark and stuffy can be transformed by knocking through walls to create more light and space. In fact, period properties have the advantage of feeling naturally 'cosier' and more homely than vast and airy warehouses. The latter need careful planning to separate the space into meaningful and personal nooks and corners.
Create Separate Zones
While open-plan living spaces are designed to be free-flowing and streamlined, you'll still want to create separate areas for different purposes and functions. Also known as 'broken-plan living', this zoned layout can create a sense of connection between spaces while maintaining a level of privacy and intimacy.
A few clever interior design hacks are all you need to create these distinct zones:
Rugs
Use large and contrasting rugs to define certain zones beneath furniture groupings, subtly indicating that it's a separate area. Rugs are also great for absorbing sound.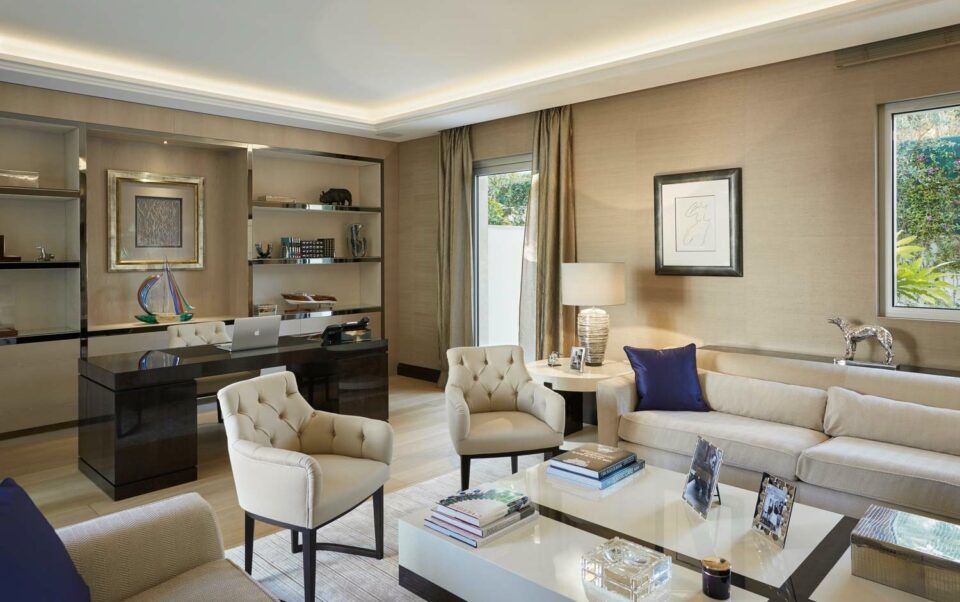 The Melrose Coffee Table and Wellington Desk in this stylish open plan home office and sitting room by Carte Blanche Design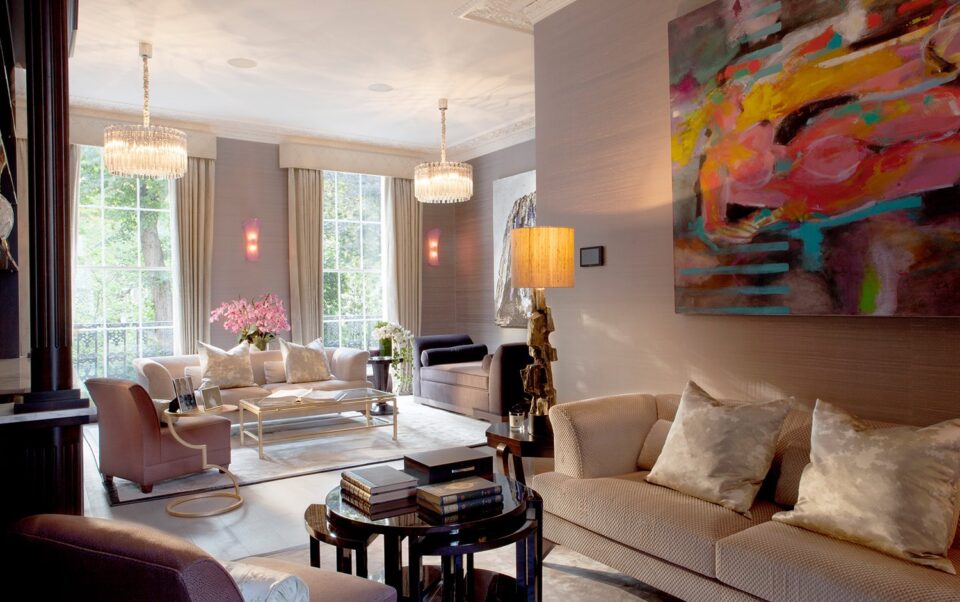 A spacious double sitting room zones | image credit Balleroy Property Group.
Paint and wallpaper
Add different personalities to different zones using different paint choices, accent walls, or wallpaper. Choose colours amenable to that particular 'zone's' function. For example, grey or purple would be perfect for a study while lighter greens or yellows are ideal for the kitchen. That said, sticking to colours within a single palette can help create a fluid feel.
Different Textures
Create a sense of individual zones by using different materials in each area. For example, add plush textiles to the lounging area for a cosy vibe and use more utilitarian textures like granite and wood in the kitchen.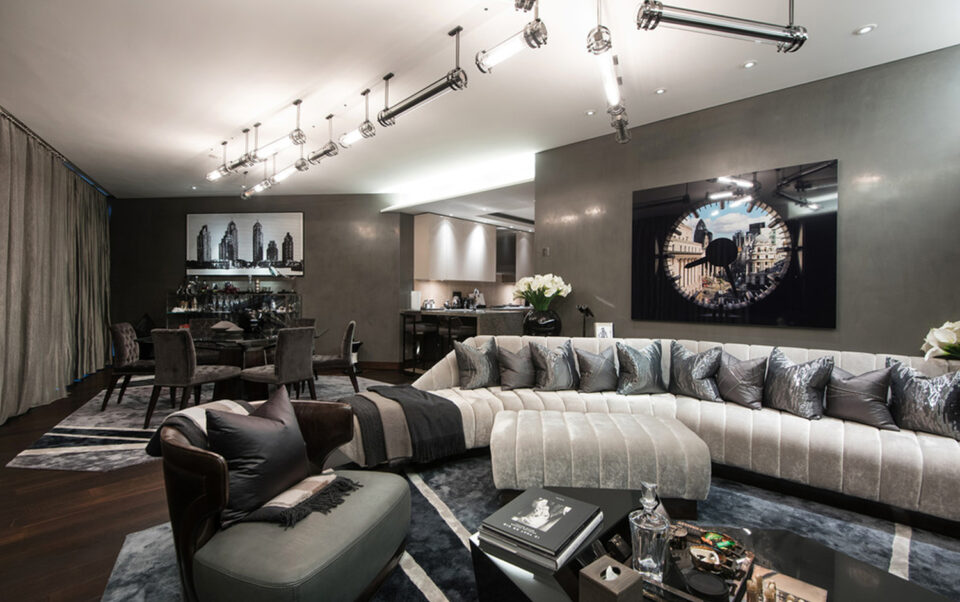 The Nelson Chair as seen in this exceptional open plan living space at One Hyde Park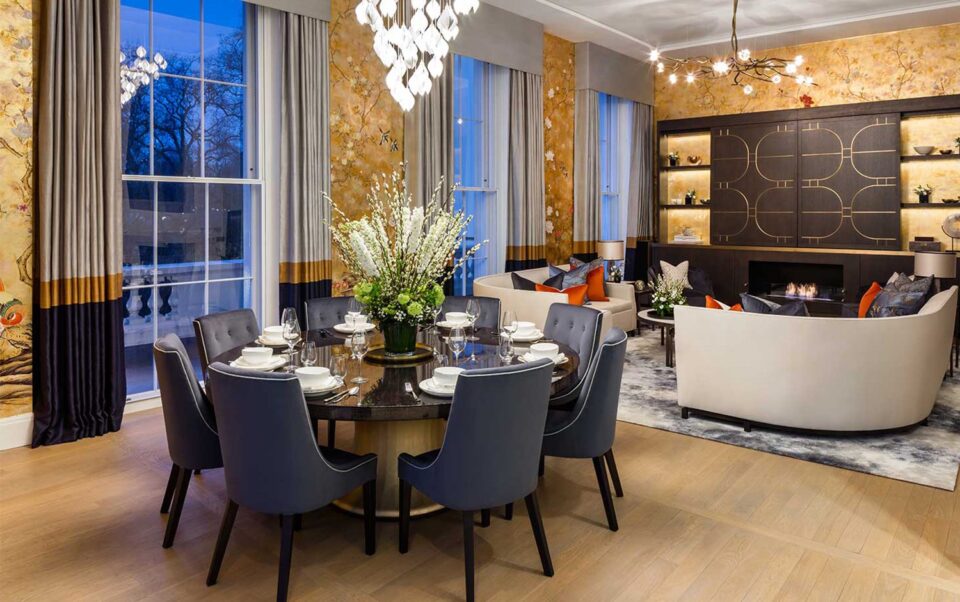 Rosebery Dining Table as seen at this opulent central London apartment by Studio Clark + Co.
Floor Materials
Consider varying the floor material. You'll want a carpet or thick rug in the living area and something more practical and hard-wearing in the kitchen. Porcelain tiles, polished concrete, wide-plank wooden floorboards, and a large Oriental rug could all collaborate to create a truly unique space.
Shop the Story
Think About Geometry
The danger of an open plan space featuring lots of dividing elements such as shelves and screens is that it can feel very angular and sharp. Add some curves to enhance the sense of interconnectivity.
The curved back of the Winslet Chair, for example, makes it a good alternative to more traditional rectangular dining chairs. Round dining tables can also impart a sense of softness and flow. Check out DAVIDSON's Rosebery Dining Table or Elystan Dining Table to see what we mean.
Similarly, an open-plan room needn't be a standard square or rectangular shape. Unusual dimensions can create a more alluring and unique space. In fact, a U-shaped or L-shaped floor plan can work better as they create natural zones, with certain areas already tucked away out of sight.
Divide the Space
Free-standing walls, partitions, and screens are all perfect for dividing your open plan room into separate areas and defining the transition from one space to another, as well as helping with noise control and stopping cooking smells from filling the entire room.
An antique Coromandel screen would look beautiful in a period property. Glass partitions are also a great way to divide an open-plan area into different sections without hampering the flow of light. Crittall-style doors are a particularly stylish option.
Choose Your Furniture
Group furniture together to create certain zones. Large pieces such as sofas or cabinets can be used to section off certain areas of the room and break up large expanses of floor space.
The benefit of using furniture to structure the space is that it can create separation without blocking the flow as such pieces are typically more low-level than shelves or screens. Furniture can also absorb some of the often overwhelming footprint of large open plan spaces.
The beauty of an open-plan space is that it can handle big and bold furniture additions. So embrace this opportunity to really make a statement.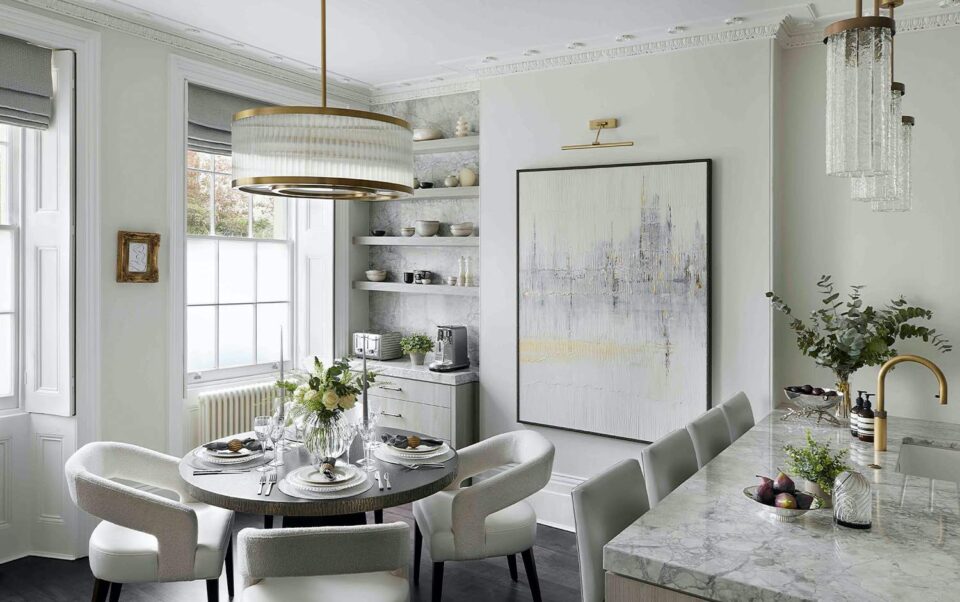 Kitchen and dining room of a Regents Park Town House. Interior Design by Sixty 3 London. Photograph by Julian Abrams.
A breakfast bar or island
Many open-plan kitchen-living rooms make use of islands to break up the space while adding a useful worktop for food preparation or dining.
Sofa And Chairs
Different-shaped sofas will have a different effect on your living space. Low-backed armless designs are often preferable to high-backed sofas that can interrupt the flow. And L-shaped sofas are good at creating a subtle distinction between the living room and the rest of the space.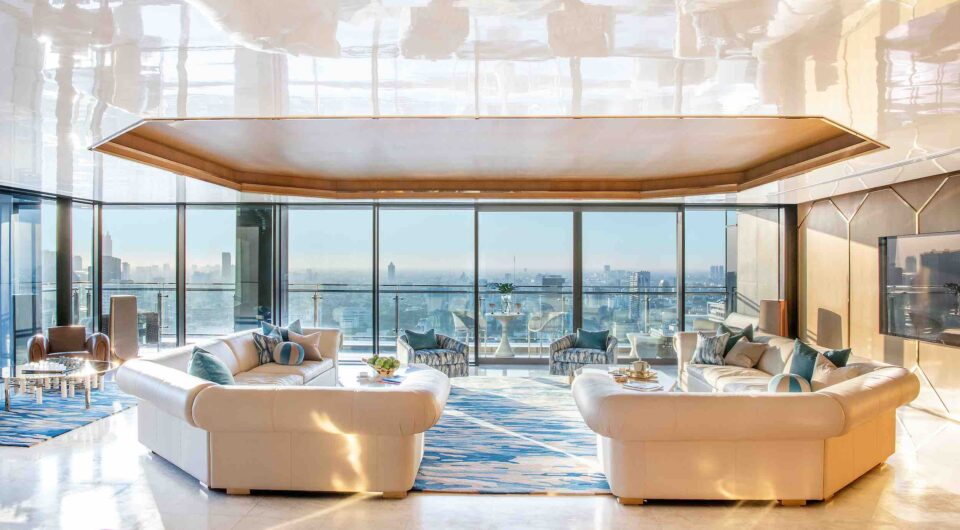 Open-plan Living room with breathtaking views of Bangkok. Interior Design by Design Intervention.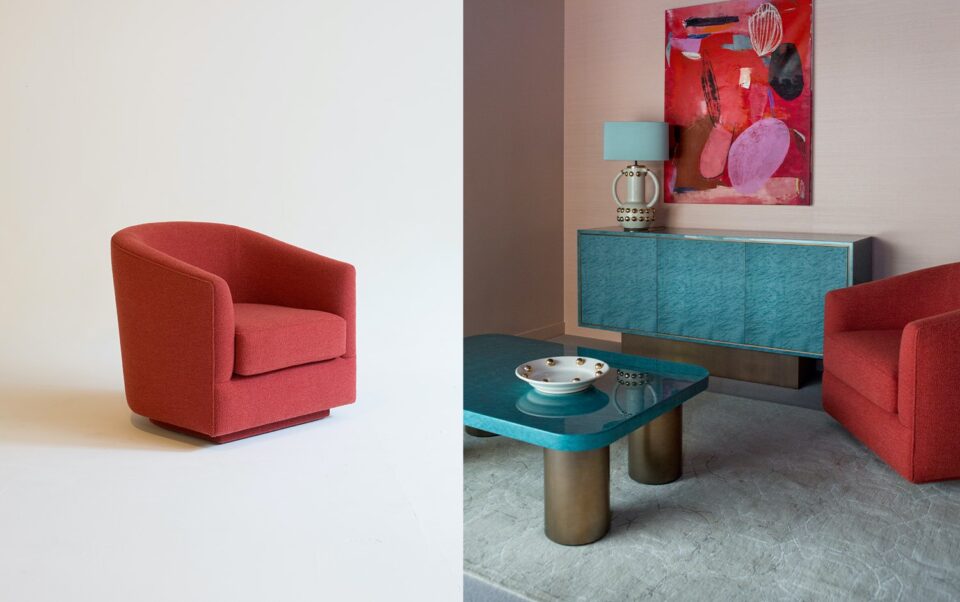 The Boulevard Armchair as part of the West Coast Collection.
Chairs
In an open plan dining room, you want to choose minimalist chairs that don't create a sense of clutter, such as the Archdale. In the living room zone, DAVIDSON's Boulevard Armchair is a good choice—cosy and colourful without being too obtrusive— while the Morton would look excellent in a study space.
Dining Table
A statement dining table such as the Rivington could look magnificent in a large and contemporary open-concept space. Similarly, the bright and daring Crayon, part of the Wanderlust Collection, could serve as a focal point for your room.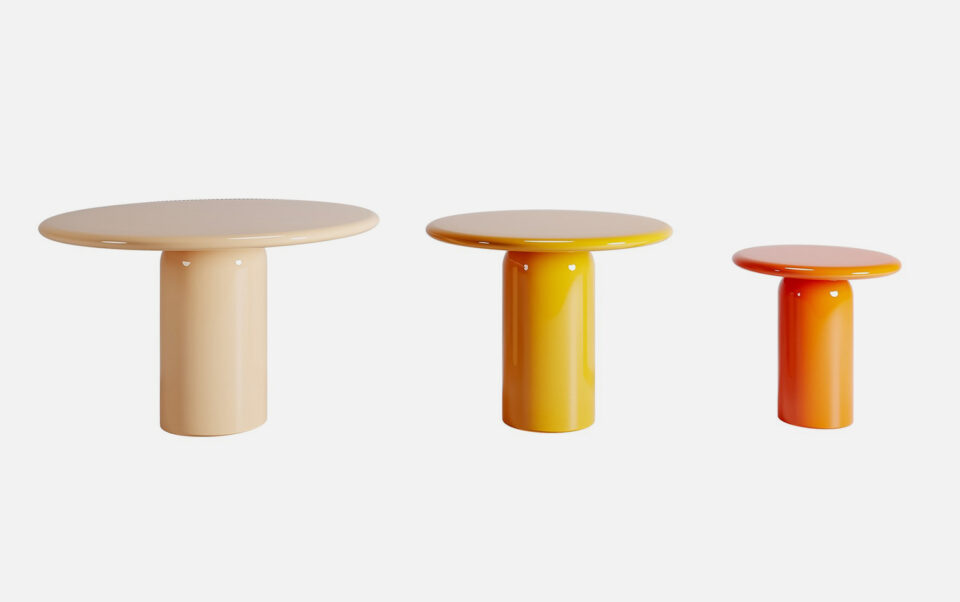 The Crayon Dining and Occasional Tables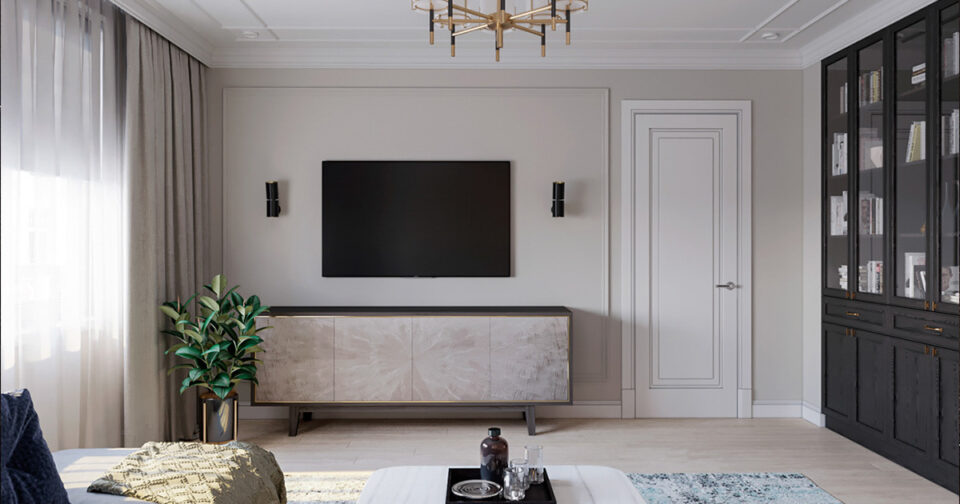 The Corinthia Sideboard in a Private Residence
Cabinets
A cabinet such as the Abstract sideboard would work brilliantly behind a sofa or alongside a wall, offering discreet yet elegant storage space or a place to display treasured trinkets or a stack of books.
Desks
DAVIDSON's desks are beautiful objects in and of themselves, while practical storage solutions also make them a pragmatic choice. If you want your open plan space to also serve as a study, the Lunar is particularly eye-catching in its unique shade of blue while the Mortimer is sleek and sophisticated.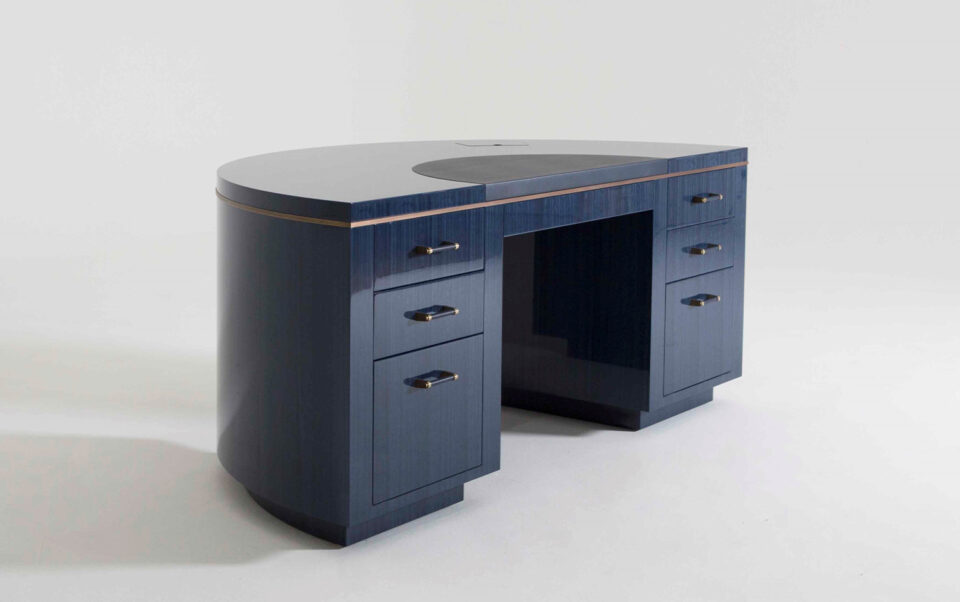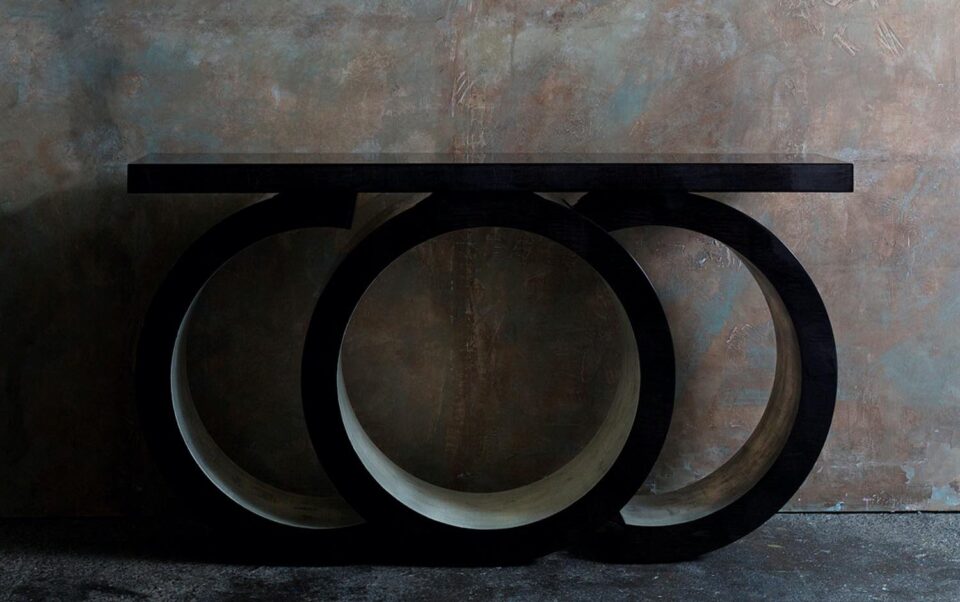 Console Tables
A table such as the Scarsdale, with its striking pedestal, is a great way to divide a space and could be free-standing in the centre of a room. You can also mark transition zones with console tables, such as DAVIDSON's Ophelia, which has the added bonus of bringing swooping curves into your space.
When choosing furniture, ensure it all works together and don't overdo it with too many statement pieces. You want to minimise obstacles and keep walk-through areas easy to navigate.
Each zone should also have a focal point around which you can organise the other elements for a cohesive and structured space. In the living area, this could be a coffee table such as the striking 70s-style Malibu. A hanging light would also work well as a centrepiece in a space featuring particularly high ceilings.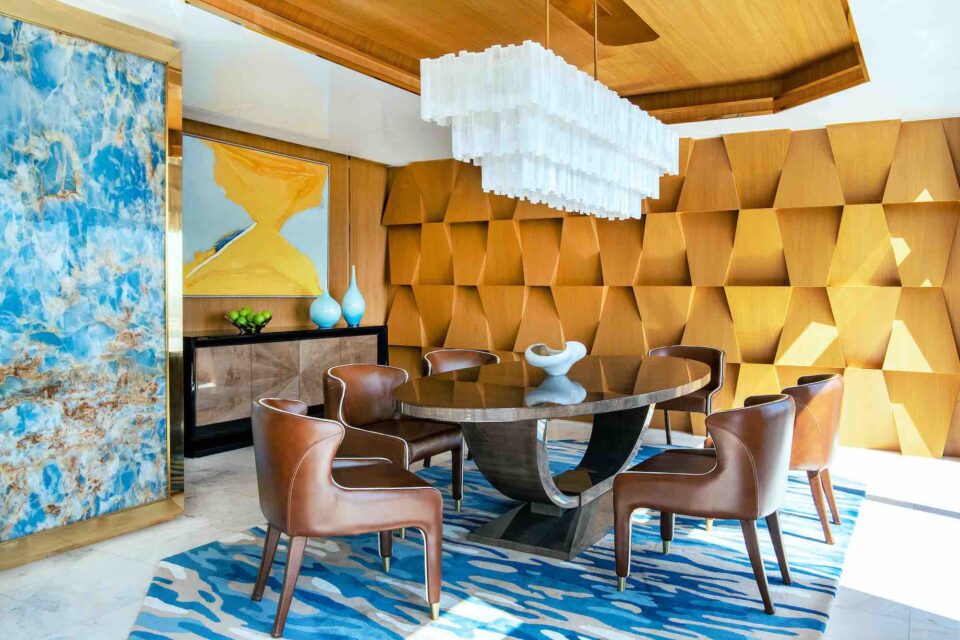 The Ovington Dining Table and Hanover Side Cabinet. Interior Design by Design Intervention.
Play Around With Levels
Split-level spaces create the illusion of different zones. For example, you might have the kitchen on a raised stage. And what about a sunken living room? This iconic 1960s trend, also known as a 'conversation pit', could add some retro glam to your space as well as feeling instantly cosy.
If your space features high ceilings, you could have a mezzanine at one end as an office space, dining room, or reading nook. You'll want to have a railing of some kind for safety but try and keep this minimalist, such as a glass balustrade.
Make It Personal
The danger of open-plan spaces is that they can feel a little drafty and impersonal. So beware the corporate open-plan office vibe and add lots of personal touches and warming textured elements such as rugs. Add your favourite artwork to blank walls and position elegant occasional tables to break up floor space, such as the Artesian with its sculptural silhouette, or the colourful Cylinder.
Finally, in period properties, considering keeping original elements, such as an existing archway, floorboards, or ceiling beams. Widen door frames to create more cohesion and embrace decorative coving or original fireplaces.
Add Lighting
One of the major advantages of open plan living spaces is that they're inherently brighter. But you still want to ensure the entire space gets access to natural light. This might mean adding floor-to-ceiling windows or wall-to-wall patio doors to maximise daylight or installing skylights over the middle of the room.
For after nightfall, you'll want a mixture of different artificial lighting sources, including table lamps, standing lamps, and pendant lighting. Use different kinds of lighting in different zones. For example, bright and practical downlights over kitchen worktops and softer and more muted lighting in the living area. Hanging lights are a particularly good choice for large open-plan spaces with high ceilings and big proportions.
Keep It Warm
How to heat an open plan space is one of the biggest questions for homeowners considering this layout. Open-concept spaces may look great but they're not the best at conserving warmth.
The best solution? Underfloor heating. But you could also consider adding a double-sided stove or fire-place, which would also work as an attractive dividing structure.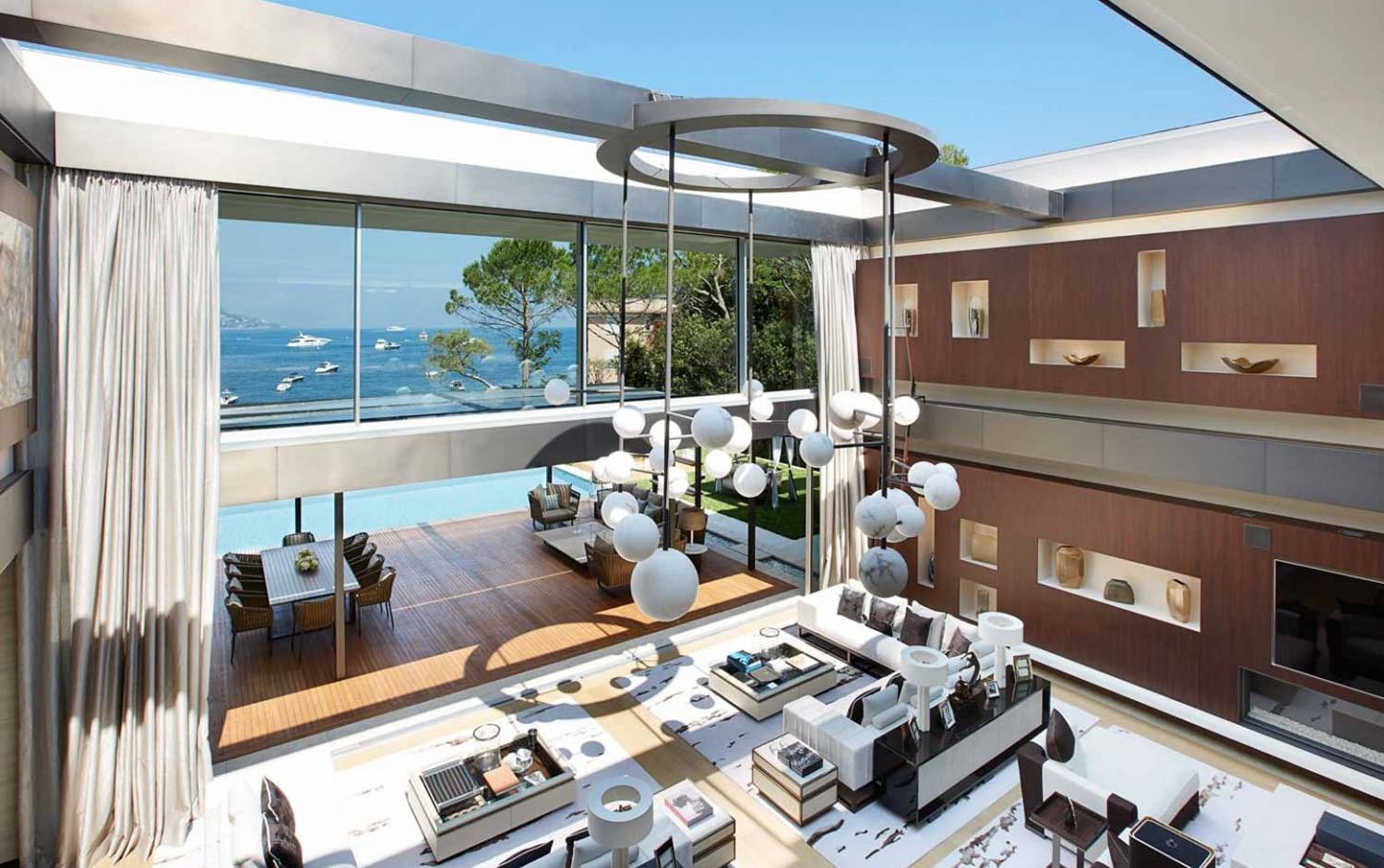 The Hillgate Side Cabinet in this extraordinary open plan home designed by by Carte Blanche Design.