Choosing Artwork to Fit Your Interiors

There are many elements that go into creating a perfectly balanced interior and one area that can make an incredible impact is your choice of artwork. But like choosing furniture, selecting pieces that suit your style require thinking about space, light, textures, and colour.
Heather Chontos is an artist who also helps her clients choose artwork that suits their taste while fitting the overall aesthetic of a room. Anyone who has visited the DAVIDSON showroom lately will have seen her beautiful work on our walls. We love the way her work complements our furniture and wanted to find out more about how she combines a passion for art with an eye for detail. So, our managing director, Alexandra Davidson, caught up with her to find out more.
Alexandra Davidson:
We adore your work and are thrilled to be able to feature it in our showroom. Did you always want to be an artist?
Heather Chontos:
Not originally, although I've always loved drawing and painting. I considered going into conservation because my mother was an antiques dealer, but I was also fascinated by the science behind art, so when I moved from the US, I studied art history with material studies at University College London. I ended up becoming a prop stylist and was an art director and did fashion and interiors for about 20 years, but I never stopped painting and drawing. During that time, I worked at World of Interiors magazine and was fascinated by furniture design and textiles. But eventually I decided I wanted to do something for myself and decided to focus on painting. After a while, though, I realised I was missing my interiors work, so I started to incorporate other projects into the artwork, such as textiles and rugs.
AD:
You now help clients choose artwork for their homes. How do you go about advising them?
HC:
Everybody has different tastes, so I tend to start with palette. But I like to encourage people to look outside their comfort zone. The other thing I try and encourage clients to think about is the scale of their space and how artwork fits within that without overwhelming.
Also, it's not about buying new things all the time. There are ways of incorporating pieces you already own – for instance you might want to buy a big painting but also incorporate your kids' artwork into the same room and, that's fantastic. It's just a matter of knowing how to place it or frame it. Also, where – people don't think about it, but hanging artwork on the ceiling can be fabulous.
I think the other important thing is considering the overall aesthetic of the room. If I walk into someone's space and the furniture isn't right, it's very hard to hang artwork around that. So, sometimes I might suggest a change. It's about finding the best way to achieve what the client wants.
Generally, I look at where and how to place artwork and the different ways of achieving that, so that each room feels a bit different. All too often, I see people relying on social media sites for ideas on how to decorate a space, which I think stifles creativity.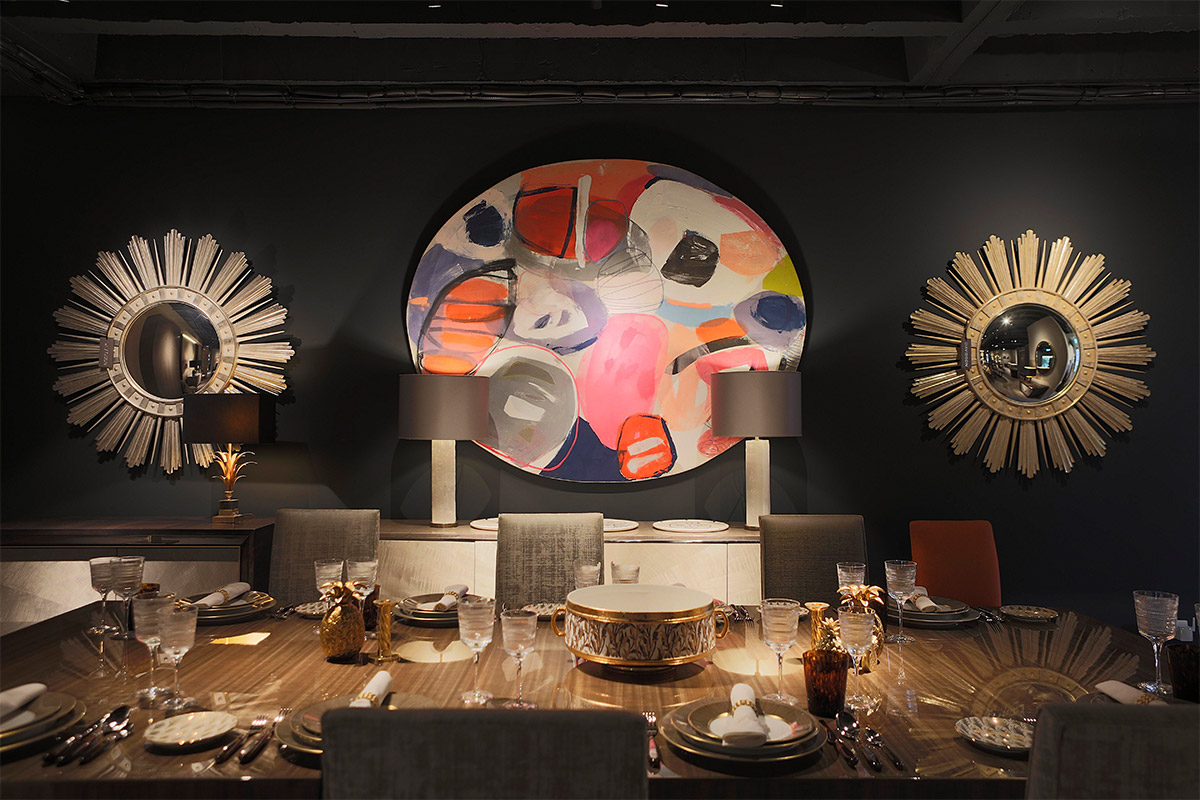 AD:
You're obviously as passionate about displaying art as much as making it…
HC:
People sometimes think that art loses its credibility if it's incorporated into interiors as a design element, but for me, they coexist. If you're hanging artwork in your home, it must be a part of your interior space. And, it must be considered in the overall look. If that means you must change the furniture and the curtains to accommodate it, then so be it. So, artwork does become a part of the interior, but it doesn't make the painting any less valuable. I try to make a space as artful as possible and unique to the client. It's not just about getting the same look that everyone else has.
AD:
So, you can't separate the two?
HC:
No, and I don't think we should be making judgements about each other; an assumption that one is better or more important than the other – art and interiors go hand in hand. If you live in a space that has a sofa and a chair and there's literally nothing on the walls, it doesn't feel right.
AD:
Do you think you're a little unusual in having those two halves of your brain?
HC:
I think that a lot of people have the two halves but are forced to choose between them. I feel very fortunate that I have both in my life. When I create a space or do a set design, my brain is working in the same way as it is when I'm making a painting. It's instinctive, it's impulsive. I look at something and I know what needs to go where.
AD:
It's interesting that you missed not exercising that interiors side when you switched to painting.
HC:
Yes, and I'm doing sculpture now as well because I miss that three-dimensional element. I like to work with my hands in all different capacities.
AD:
So, what about people who might know they love Picasso, for instance, but can't afford an original? How do you help them explore their tastes?
HC:
So, I might ask: "What exactly is it that you like about Picasso? Do you like his crazy Cubist paintings? Do you like those linear drawings of women's faces? Do you like the sculpture aspect of his ceramics?" And then I might be able to suggest an alternative. I think it's important for people to understand what makes them feel something. And, if they don't feel something, it doesn't have any value at all. That's why it's important to hang your children's artwork on the wall because it makes you feel something. I love it when people say to me: "Oh, this painting makes me so happy, I love looking at it." If that's what I've accomplished, then I've done my job.
AD:
And how do you help people buy pieces that they'll still love 10, or 20 years later?
HC:
I think it's about avoiding mass-produced stuff. It's just filling up space and emptying your bank account. If you spend money on something that gives you a feeling of accomplishment, then that's different. That's when it lasts. People's tastes change over time, but, generally, if you go on how something makes you feel, it tends to last. That's why it's so important to have a space at home that makes you feel good. It's like you're in a peaceful place after you've been out in the world with all the craziness. I think the other thing is if you're investing in artwork, you should be spending money. This is handcrafted and you'll cherish it because it's unique.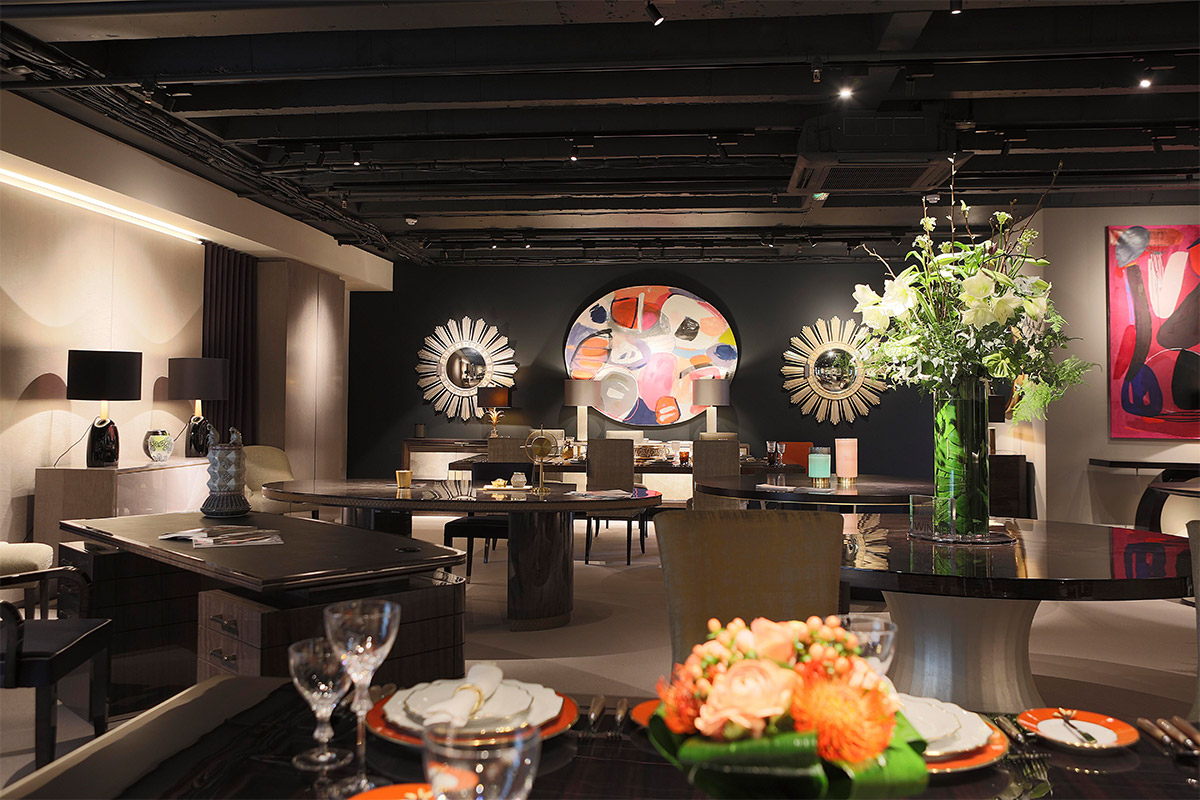 AD:
Apart from palette and space do you have any other tips for people when considering how to incorporate art into a room?
HC:
Look for inspiration everywhere and do your homework. Whether you're at a flea market, a museum, or travelling abroad, look at things, take notes, keep colour swatches. Collecting ideas will help you to create your aesthetic. Even picture frames; if you see one you like, take note of what it looks like so that you have things that inspire you.
If you're near London's Design Centre do stop by our showroom to see Heather's beautiful artwork. And if you'd like any advice on choosing furniture, don't hesitate to get in touch.
You can learn more about Heather and see more of her artwork on her website.
Discover